Meet Konstantin Podyachev
founder of
MIX Recording Studio
From the interview to Voyage LA Magazine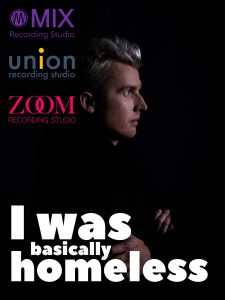 Today we'd like to introduce you to Konstantin Podyachev.
Hi Konstantin, it's an honor to have you on the platform. Thanks for taking the time to share your story with us – to start maybe you can share some of your backstory with our readers?
My story in the United States started in 2014 when my wife and I moved to California with our three years old son. We made a fresh start. The first few years were pretty challenging for my family and myself.
With two graduate degrees and solid hands-on experience in management, construction and music, it was not easy to find a worthy application for my skills.
Busboy, Bar-back, Mover, Uber Driver, Dishwasher Installer – these were my professions for the first few years. I have never complained about doing any of these jobs. I needed to feed my family, and I was happy with everything that appeared on the horizon. From the very beginning, there was no illusion that in a new country, we should build our path from the ground up.
2016 was a major year when everything shifted. Working full-time as a dishwasher installer, my family and I came to the conclusion that we simply can't afford living in the US. Even I was doing 50-60 hours a week in my main job, worked all available night shifts and doing Uber all weekends. It simply was not working out. I had to send my family back to Russia until I figured something out.
At that moment, I was basically homeless. I slept in a small studio space in Hollywood on Santa Monica and LaBrea, which we were renting with a friend of mine. No kitchen, no shower. Just a sofa that I found on the street and a table left by previous tenants. I remember those moments when I'd be taking free gym passes on Groupon all over Los Angeles just to take a shower, haha.
This is how the first Union Recording Studio was open. People call this place OG (original) Union because that's where it all started. Even though we have nine studios at the moment, that first studio is still there open and operating as a reminder that everything starts small.
Now, in 2022 I can see the first results of our commitment and determination. MIX Recording Studio, ZOOM Recording Studio, and Union Recording Studio are my kids that were born one after another in the last few years. We have a strong Winning Team, obsessed with growing up high to the space and making this World a better place with our products and results.
Great, so let's talk business. Can you tell our readers more about what you do and what you think sets you apart from others?
MIX Recording Studio currently provides a wide range of services for recording artists, such as:
– Recording and mixing music
– Photo and video production
– Podcasts and real-time online
– Marketing;
– Packages for independent artists.
MIX Recording Studio is a top 5 Recording Studios is Los Angeles. The studio works with artists and companies of different levels, from fresh-faced newcomers to major music corporations, including Sony Music, MTV, Universal Music and others. MIX Recording Studio provides services locally in Los Angeles as well as online all over the world (Germany, Japan, Australia, and all States in the US).
MIX Recording Studio's engineers are carefully selected, trained, and highly skilled in Pop, RnB, Hip Hop, and other music genres. Working with this studio, artists have access to Grammy-nominated engineers and the latest trends in music industry, as well as state-of-the-art technologies in the recording industry. MIX Recording Studio is open 24 hours a day and offers immediate access to the studio and equipment using self check-in technology.
The studio is fully equipped for self-recording services, where artists are able to record themselves, work privately and also save on the recording engineer's fee. MIX Recording Studio offers rates for independent artists and packages for first-time clients. MIX Recording Studio's most loyal customers are often music celebrities and well-known music producers. The studio is located in the heart of Los Angeles and can easily be accessed from Hollywood, Santa Monica, Downtown Los Angeles and other parts of the city.
What has been the most important lesson you've learned along your journey?
Everything starts small. Keep your headlights on in the dark, and follow the road. Eventually, you will reach your final destination, even if you can't see it when you start.