DRUM RECORDING SESSIONS
Want to make your music sound more alive and energetic with professionally recorded drums? You've come to the right place! MIX Recording Studio is the perfect choice for great drum recording services in Los Angeles.
Our studio has the latest technology and skilled engineers who are dedicated to making your music stand out. Whether you're a solo musician, in a band, or a music producer, we have the know-how and equipment to meet all your drum recording needs.
What makes MIX Recording Studio the best for drum recording in Los Angeles?
Expertise: Our experienced engineers are really good at capturing drums and bringing life to your music.

Quality Equipment: We use the best equipment and software to record the purest and most dynamic drum play.

Customized Services: We adjust our recording sessions to match your style and preferences, making your ideas come to life.

Great Sound: Our studio is designed to make sure your drum recordings sound perfect.

Affordable Prices: We offer competitive rates for drum recording without sacrificing any quality.
MIX Recording Studio isn't just about drum recording. We're a full-service recording studio in Los Angeles, ready to record vocals, guitars, keyboards, and more. We can also mix and master your music to make it sound its very best.
We're passionate about music and committed to making your drum recordings sound right. Your music is important to us, and we're here to help you bring your musical vision to life.
Ready to give your music a boost and take your ideas to the next level? Contact us today to set up your session.
$99/hour
5-Piece Brand New Drum Set
Dedicated Sound Engineer
Sound Proofed Room
Stem Files in WAV or AIFF
* 3 hours minimum
Gear List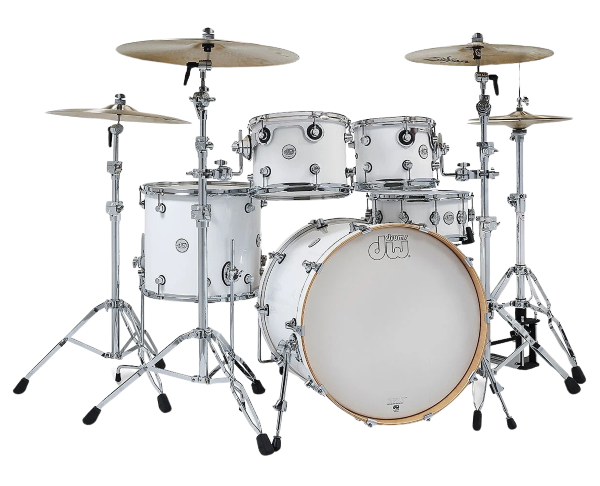 Drum Set:

- DW Design Series 4-Piece Shell Pack Gloss White
- Bass drum: 22" x 18"
- Toms: 10" x 8" and 12" x 9"
- Floor tom: 16" x 14"
- Material: Maple
- DW Design Series Snare Drum 14" x 6" Gloss White;
- Yamaha Hardware with 3 cymbal stands;
Cymbals:

- Zildjian A Custom Cymbal Pack:
- 14" A Custom Hi-Hats
- 16" A Custom Crash
- 18" A Custom Crash
- 20" A Custom Medium Ride
Microphones:
- 1 x Audix DP7 Drum Microphone Pack (7 mics)
- 1 x D6 dynamic mic;
- 1 x i5 dynamic mic;
- 2 x D2 dynamic mics;
- 1 x D4 dynamic mic;
- 2 x ADX51 condenser mics.
- 1 x Shure SM57
- 2 x AKG C 414 XLS/ST (Matched Pair)
Recording System:
- Universal Audio Apollo x8 18x24
- Audient ASP880
*** Studio system accommodates a drum recording with up to 10 channels.
FREQUENTLY ASKED QUESTIONS
A drum recording session is the process of capturing high-quality drum sounds for your music. It's essential for achieving professional and polished tracks, as well as bringing life into your music.
The duration can vary, but a standard drum recording session usually lasts around 4-8 hours, depending on complexity.
When you book a drum recording session, it's important to account for the time needed to set everything up and tidy up when you're finished. These steps are crucial for the recording process. So, when you're determining how many hours you want to book and calculating the cost, make sure to include this setup and "wrapping up" time in your session.
This typically adds up to about 1-1.5 hours for setup and another hour for teardown. These setup and teardown phases are crucial aspects of the recording process, and you should factor them into your total booking time and cost calculation. That way, you'll have a clear understanding of how long you'll need and how much it will cost for your session.
We use a combination of high-quality microphones, preamps, and recording software to ensure the best drum sound possible: DW Design Series Drum Kit, Zildjian A Custom Cymbals, Audix and Shure Microphones, Universal Audio Apollo x8 Interface, Audient ASP880 Preamplifier.
You can bring your own drum kit if you prefer, but we also have a studio drum kit available for use. Our Studio system accommodates a drum recording with up to 10 channels.
We highly recommend engaging a professional drummer who is already familiar with your music. However, if you do not have one available, we can arrange for a drummer to participate in your session with prior notice and an additional fee.
In order to maintain the highest standards of recording quality and efficiency, our studio exclusively offers drum recording services with our experienced engineers, who oversee the recording process. However, if you have your own engineer, they are welcome to participate in the session alongside our team.
It's best to have your songs arranged to some extent, but our experienced engineers can help with arrangement and suggest improvements during the mixing session.
Absolutely,we do provide the option to schedule a separate session for the mixing and mastering of your recorded tracks. You may book standard studio sessions with one of our experienced engineers for this purpose. We kindly request that you bring the individual stems for your instrumental to your session for the best results.
You will typically receive high-quality audio files/stems in formats like WAV or AIFF 44.1, 48kHz and up, suitable for mixing and further production.
HAVE MORE QUESTIONS?
Visit our Recording Studio FAQ page for more details or call us at +1 323.218.7475
MORE SERVICES
MIX Recording Studios offers a wide range of services which include, Studio rental, Recording, Mixing, Mastering, Video Production, Phonoshoot and more.