10 Radio Stations That Accept Rap and Hip-Hop Music Submissions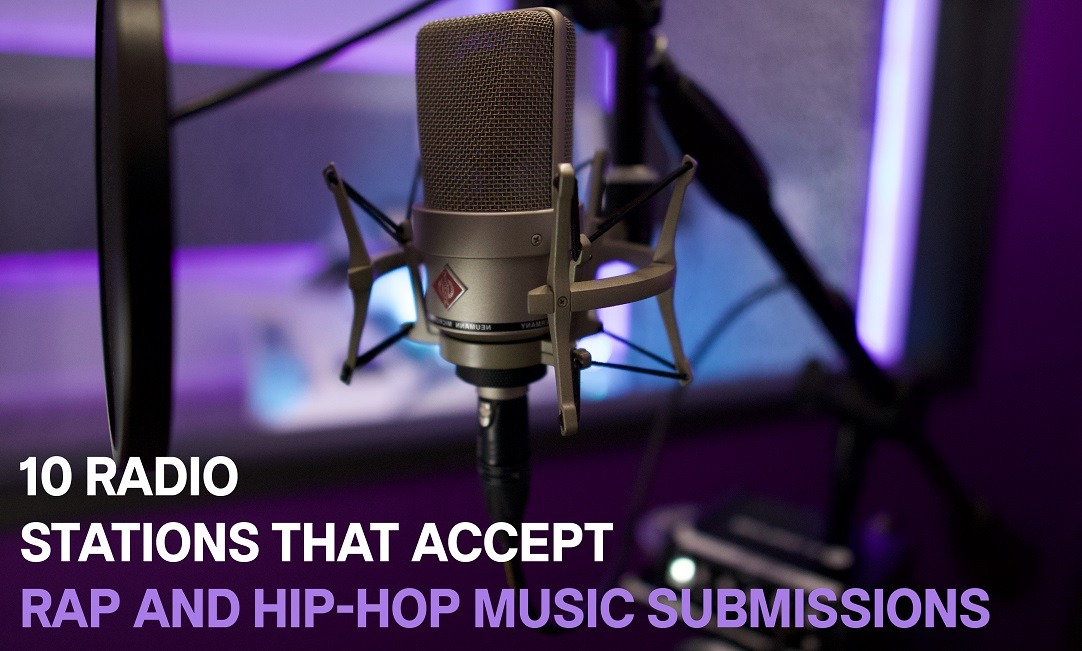 Are you making rap or hip-hop and want to submit it for radio airplay? If yes, this blog is for you. Here, we've curated a list of 10 radio stations where rap or hip-hop artists can submit their music.
The most difficult aspect of becoming a well-known musician is being discovered. You could perform a lot of local shows and become a local treasure, but how do you spread your wings and reach a larger audience?
Independent artists have a bright future thanks to Internet radio. Online radio has made significant contributions to the landscape of broadcast radio since its inception in the early 1990s. In many ways, online radio has become an ally for independent singer/songwriters, musicians, and artists. Because the internet can reach places all over the world, anyone can listen from anywhere. Furthermore, online radio stations are frequently run by music lovers, so pitching your music to them will be much easier. So get your submission sheet ready as we present here 10 radio stations that accept rap and hip-hop music for submission.
1. Flow 103
This internet #1 Hip-Hop and R&B radio station features several iconic artists like Drake, Beyonce, Jay-Z, Nicki Minaj, Eminem, and others. The target audience for FLOW 103 is both, males and females aged 18-34 from all over the world, primarily from North America. FLOW 103 provides high-quality programming such as the daily Top 7 @ 7 and is the home of the All Request Show/FLOW 103's Top 5 live!
2. WBCA 102.9 FM
WBCA-LP (102.9 FM) is a Boston, Massachusetts-based low-power FM radio station. The station is a collaboration between the Boston Neighborhood Network and the city of Boston. The radio station primarily broadcasts local news, talk, and music. It does not accept submissions from people living outside of Massachusetts. Hip hop, rock, electronic, jazz, world & reggae, funk, punk, country, and soul are all welcome. WBCA 102.9 FM abides by all FCC rules and regulations and will only play FCC-approved music. WBCA does not have the time to edit any music that is submitted due to the high volume of submissions. If you submit music that contains inappropriate content, it will not be played or kept at the WBCA.
3. Magic 101.3FM
The Florida-based WTMG (Magic 101.3) is a commercial radio station in Williston that broadcasts on 101.3 FM to the Gainesville-Ocala area. Operative since 1994, WTMG broadcasts Hip Hop, R&B, Old School and Classic Soul, and Gospel. It was Gainesville's only Urban radio station at first, targeting both Mainstream Urban and Urban Adult Contemporary audiences, but has since shifted to a Rhythmic Contemporary format. It is the home of Rickey Smiley's morning show.
4. KRRQ Q95.5
KRRQ (formerly Q-95-5) is an Urban Contemporary radio station serving the Lafayette metropolitan area. Cumulus Media owns the station, which broadcasts on FM frequency 95.5. Its Lafayette studios are on Galbert Road, and its transmitter is southeast of Church Point, Louisiana. KRRQ was signed by Citywide Communications on March 1, 1996, with a Contemporary Hip Hop and R&B format. Q95.5 provides unbiased access to all record companies and recording artists, both national and independent. They accept music submissions via mail, email, and phone.
5. The Justin Wayne Show
The Justin Wayne show has had over 100 guests, co-hosts, and interviews on its 200+ shows since January of 2008, playing music from over 1000 independent musicians from around the world. To submit your rap or hip-hop, you just need to fill out a website form, along with instructions and submission guidelines. This radio station provides its listeners with the best music radio shows, promotes your music, band, and brand, and helps you by adding links to your websites, purchasing links, and donation links.
6. 94.7 The Link
The radio station from Atlanta was started in 2016. It plays your favorite hits all day and presents the hottest mix of shows and talk shows. You may submit your rap or hip-hop by visiting its website and checking its eligibility criteria. The management team reviews the submission every week and reserves the right to include or discard your submission.
7. SODMG radio
Soulja Boy, CEO Miami Mike, and Jay Shields founded SODMG Radio, a fully licensed Hip-Hop and R&B radio station. SODMG Radio is a professional royalty-paying radio station that is licensed by ASCAP, BMI, SESAC, and Sound Exchange. You can submit your rap or hip-hop by visiting the website and filling out the form completely. Your song must be submitted in the format artistname_tracktitle.mp3. If you send a song as Track 01.mp3, it will be rejected right away. Upload the artwork in the following formats: artistname_trackname.jpg, gif, or.png.
8. Hot 103 Jams
You can hear KPRS 103.3 FM, the home of Hot 103 Jamz, on your standard car, home, or portable radio within a 60-mile radius of Kansas City, Missouri. It is a 24-hour, 100,000-watt FCC-licensed commercial radio station owned by the Carter Broadcast Group. To avail of the services of this radio station, you must visit their website and learn about what the conditions are and how you can submit your rap or hip-hop.
9. WIIT 88.9
WIIT is one of the oldest student-operating radio stations in the US. The non-commercial radio station for the Illinois Institute of Technology is located in the McCormick Tribune Campus Center of Illinois Tech's Main Campus. Each program offered by WIIT has a unique theme and genre. We encourage our volunteer DJs to use their music as a platform for creative expression. WIIT stands out from the majority of closed-format radio stations thanks to its creativity.
10. WSRL 96.1 Pulse
Pulse Radio started by Aidan in the City of North Chicago first used free resources and tools donated by other broadcasting networks. From a small radio station, it grew into a brand and earned praise for showcasing citywide events on YouTube and other social media platforms for more than 8 years. Pulse Radio offers the widest selection of music, reaches a global audience, and informs listeners about their favorite celebrities. They offer their listeners local news as well as global news from reputable sources like The Associated Press and Lake County News-Sun. The heartbeat of Lake County is Pulse Radio.
Conclusion
With these radio stations, you can have a good start. There are still more that can help you to get discovered as an artist. To start with, you just need to visit the official sites of these radio stations and go through the conditions and fill out the online form to submit your rap and hip-hop. To get more updates, stay tuned in with MIX Recording Studio, a professional recording studio that offers various music-related services to both budding and seasoned artists.