5 Best Remix Contests You Must Know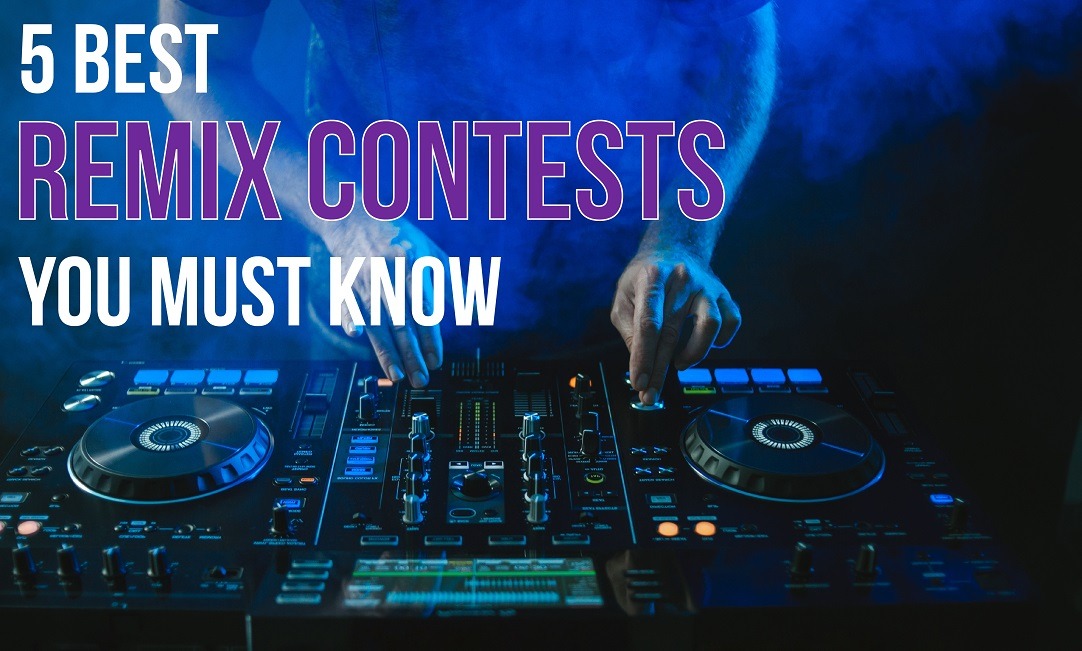 Taking part in remix competitions, songwriting challenges, or beat-making battles is an opportunity to test your producing abilities and spark your creativity.
Of course, making music is not a competition, but occasionally pushing yourself to produce something that will receive constructive criticism is a terrific way to break beyond writer's block and boost your confidence.
Additionally, applying to create a song, remix, or beat can help get your songs in front of new fans because contests typically pull audiences fr om the combined fan base of every producer or songwriter participating in the event.
Above all, it allows you to showcase your talent publically for music labels to find you. Several music artists such as Todd Helder, Kindrid, and San Holo got recognition through these remix competitions.
So, if you want to participate in a remix contest, you are on the right page. Here, we will learn about the latest remix contests, which can help you in boosting your musical career.
What do you mean by a remix contest?
In a remix competition, two or more producers compete to develop an original remix that is judged by a panel or put to a public vote.
Remix competitions can take many different forms. One type is the sample flip challenge, wherein the producer transforms a given sample into completely other sounds. Often in such contests, producers have to generate a beat in a given time.
Other remix competitions require producers to remix the music stems of unfinished songs or an already-released pop tune.
Most often, sample flips, stems, or a whole song are sent to the competition field for remix contests or beat-making competitions to generate something new from the source material.
The top five remix contests you must know.
1. Kenny Beats
Kenny regularly holds beat-making battles as part of his channel, and members can participate by visiting his website and joining his discord server.
Subscribers can participate in his frequent beat-making challenges through his Discord channel as part of his channel.
Typically, a sample flip or a selection of stems is the focal point of a Kenny Beats competition.
Visit his Twitch channel or his Discord channel to get involved.
2. SKIO
The remix challenge platform SKIO frequently hosts competitions. If you're interested in electronic music production, this could be a great platform to check out as it generally seems to cater to EDM producers.
The hardware and plugins from their sponsors appear to be the prizes.
Be sure to check it out because they frequently have remixes and beat-making competitions going on.
3. YouTubers
There are so many YouTubers organizing beat-making competitions in addition to Kenny Beats.
It makes sense because remix competitions are a great way to engage subscribers and generate fresh material.
So be sure to follow your favorite music production YouTube channels and subscribe to them to find out if there are any opportunities to enter competitions.
4. Metapop
Another platform that is very similar to SKIO and others is Metapop.
It frequently holds remix competitions and beat-making challenges, with rewards provided by its partners and sponsors.
Additionally, the platform offers a part wh ere users may share tracks with other creators for feedback and audience development.
5. LANDR Challenges
New music-making contests called LANDR Challenges are held on the Collab tools platform of LANDR.
With LANDR Challenges, a seasoned host artist offers a variety of unfinished stems and invites participants to use their inspiration to create something brand-new and unique.
You must upload the brand-new song and ask your followers, friends, and family to vote for it to win.
The top fan-voted tunes go to the final round when the host artist chooses which track will be the eventual co-release winner.
Conclusion
The fact is music is not for competition but there is no harm in participating in such challenges to get inspired or make better beats.
These competitions are very beneficial for honing your music-producing techniques, networking with other producers, and expanding your fan following.
So, if taking part in these challenges appeals to you, don't be scared to try it out; you never know, you might get some free stuff and come out on top!
MIX Recording Studio, a
professional recording studio
offers you music-related services such as mixing and mastering services to transform your excellent compositions into great ones. In addition, we also connect you with the music world and update you on the latest music trends. To stay updated, be with us.