5 common mistakes you should avoid while marketing your music!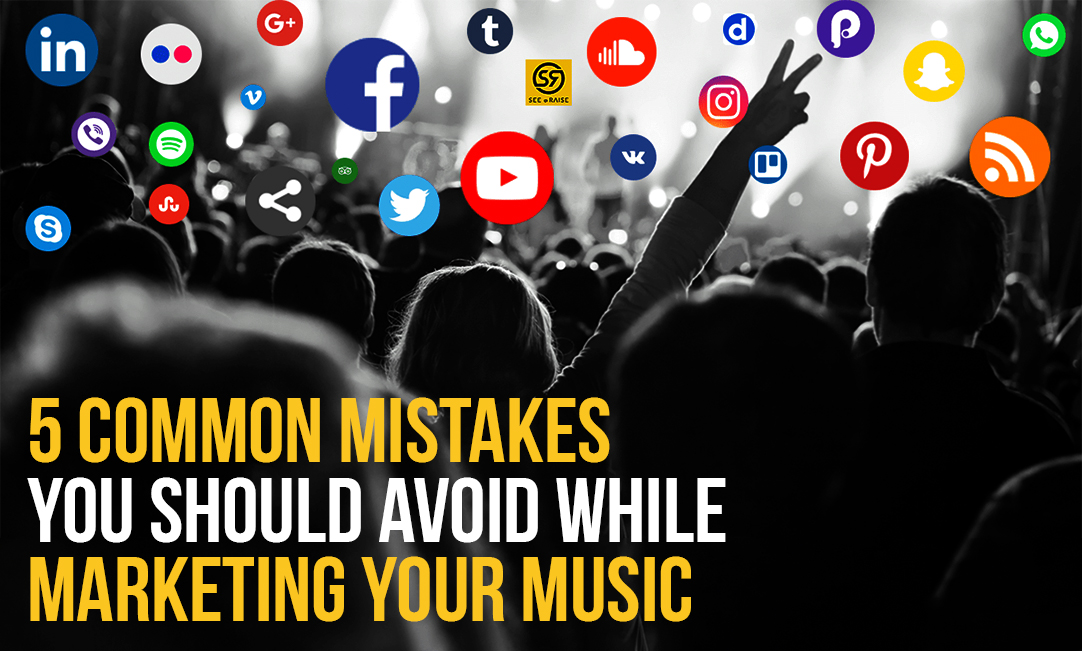 Are you struggling in the music industry? It's frustrating. You've got awesome songs and tracks you're not getting exposure to.
You're lacking something. Is it marketing? Are you not promoting yourself and your music, or are you making some grave marketing mistakes? Yes, there are innumerable marketing mistakes that independent artists make, whether they are seasoned or newcomers. (Though it's 'sometimes' by seasoned artists and 'frequently' by newcomers)
In this blog, we have a curated list of 5 common but serious music marketing mistakes that must be avoided at all costs.
Let's explore.
1. To consider – Promoting isn't cool
This is one of the most common mistakes committed by an artist. Many artists consider it's not good and artistic to promote oneself as an artist or one's music. But it's not true.
If you're passionate about your creativity and want people to hear it, you have to promote it. Promoting is not selling. In selling, sometimes you need to compromise with your artistic integrity and create something that you don't enjoy in order to make money. But when you enjoy creating music, are passionate about it, and are paid for it, it's not selling.
To reach millions, you have to promote yourself and your music. Be realistic. There are artists all around the world who are equally outstanding. If you don't make enough effort to bring your music in front of your audience, they would not be able to hear you. Thus, if you want your audience to hear you and enjoy and appreciate your music, promote yourself and your music.
2. Not ready to pay for promotion
Again I would mention there is music all around. So, if you want your music to be heard, then not always, but frequently you need to invest in promotion. Getting your music reviewed is one of the most effective ways of promotion. It helps you to become successful. You can do it by paying music bloggers, journalists, or music curators.
A music blogger is approached by many artists every day to get their music reviewed. But since they have so many audiences, they may not be able to give an honest review as they may not listen to your music sincerely or at all. In that case, a paid service can help you. You can pay the blogger and journalist to actually listen to your music and review it.
Besides, paid ads also pay you. In order that the music can be heard, you've got to make effort to bring it to the forefront. For that paid ads are very helpful.
3. Not having the right marketing strategy
For you as an artist, it's not just exposure that is what you require. But having the right kind of strategy is quite essential to reach the target audience. To make your audience hear your song repeatedly and take some action such as knowing more about you, you have to plan strategically. You have to plan in such a way that exposure generates immediate interaction with your audience.
One way of doing this is by adopting a targeted approach. This doesn't cost a lot for an independent artist. You need to bring your music in front of the right audience. Sometimes, you become so desperate for your music to be heard, you start targeting everyone. This is a typical marketing mistake. It may waste your money, energy, and time.
In order for your music to be heard by the right audience, you can use several social media platforms. You can run paid ads on Facebook, Google, or any third party. With the help of these, you can track everything such as how much it is costing per click, which ad is compelling people to download your album, etc. And from these, you can choose the ads that are giving you the best results.
4. Don't rely too much on social media platforms
Promoting yourself on Facebook, YouTube, Instagram, Spotify, etc. is an excellent idea. But don't rely heavily on these platforms. There are genuine reasons. For instance, if someone follows you on Instagram, you don't own the person, meaning you don't have a direct relationship with the person. If your content is original and excellent, it helps to get organic engagement and stay connected with your fans but to get all that you deserve, you need to pay for it. Whether it's Instagram or Facebook use them and get maximum visibility through paid ads.
But along with these, you should develop direct relationships with your fans. This you can do by getting their email address and other contacts. With these, you can personally be in contact with your fans and can interact with them.
5. Just promoting your music
No doubt, your music is outstanding and your fans love you as an artist. But do you think that you should give your fans enough reasons to spend more money for you, apart from just downloading your albums? There are other areas as well where you can compel your fans to spend. These are touring, performing live shows, selling merch such as hats, t-shirts, posters, DVDs, etc. These will give opportunities to your fans to help you earn millions each year.
These would not only help you to become more popular and earn more but help to create value for your fans.
Start touring, performing live shows, and selling merch through some reliable online stores.
Conclusion
Marketing music is not similar to the music you love and create. It requires a totally different kind of effort from your side. Certainly, music marketing is a time-consuming and painstaking job! But the fact is, to stay in the industry and be successful, you need to market yourself and your music. Avoiding mistakes can help you, go a long way.
MIX Recording Studio, a professional recording studio offers you several services such as production, post-production, and promotional services. Our state-of-the-art studio is a one-stop destination for any kind of music service. With our latest online mixing and mastering services, we're assisting our distant clients. To avail of our services, contact our expert team.