5 Exercises That Help You Write Better Songs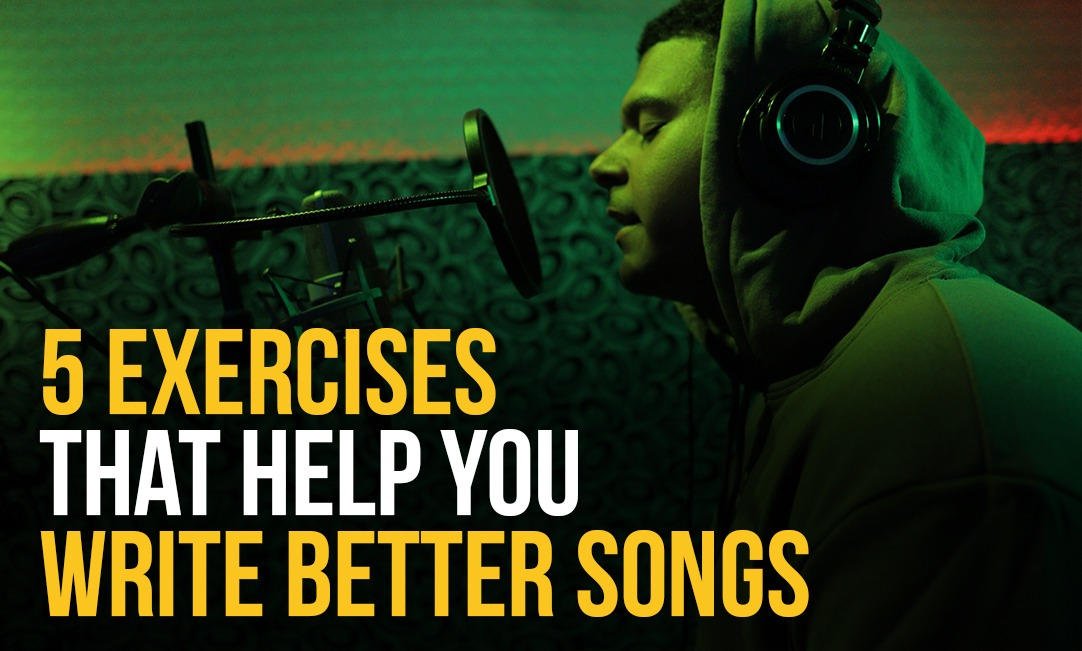 It's critical for us songwriters to always work on our craft and look for ways to better.While we urge that you write songs regularly since it is good to practice, there are many various types of song-writing activities you can do. The only problem is, if you're anything like me, you don't have all day. This is why we compiled a list of songwriting exercises that we discovered helped me improve my writing.
Look no further and be ready to learn if you want to improve your songwriting skills as quickly as possible. Keep in mind that when we come across more useful songwriting activities, we may add them to this list.
1. Collaborate with some of your favorite songwriters.
Writing alongside your favorite songwriters is a great way to help you generate more innovative lyrics. You might be thinking. That's not entirely true. Taking the words from a song you enjoy is an excellent exercise. Print them out, cross off every other line, and replace the lyrics with your own.
2. Compose a tale about someone you don't know
Writers can trace a scene of strangers on the train or in the park in the same way as visual artists can. Go somewhere with a lot of people - somewhere serene but not too crowded. Keep an eye on the people all over the place. What is their backstory? Do they have a broken heart? Are they in a relationship? What apprehensions do they still have to face? Ask yourself a series of questions. What qualities of a character do your favorite lyricists reveal that resonate with you when you listen to them? Maybe they admit to having self-doubt, which you may identify them.
Look for and write about strangers' stories. It also doesn't have to be a real story. Perhaps the elderly lady in the park is the owner of the world's greatest diamond and lives with angels in a deserted moon mansion. Be inventive, adventurous, and inquisitive.
3. Choose a theme and start writing.
We're often preoccupied with appreciating every verse that comes out of our mouths while we compose. We write line by line, without moving on to the next one until the first one is complete. You want the finest lyrics possible, but as a creative exercise, try pushing the boundaries of the stream of consciousness.
Choose the theme you're attempting to communicate before you create a song – or even while you're creating it – and just write. Make a five-, ten-, or fifteen-minute timer. Don't glance down or consider whether or not what you're saying is appropriate, grammatically acceptable, or even representative of the theme. Simply be open and let it all out. Analyze what you've written, sel ect sentences that you like, and make every effort to thoroughly comprehend the story you want to communicate. You might be astonished by what you catch on.
4. Collaborate on a project with a friend - and set a deadline.
"The Song Game" is a game played by songwriters including Jason Mraz, Bob Schneider, Patty Griffin, and Ben Folds. They are given a concept or a single line to write a song about, and they are given a limited amount of time to write a song and submit it. The game inspired Mraz's song "Coyote," which appears on his debut album We Sing, We Dance, We Steal Things.
Bring a partner who writes well and whom you admire. Your buddies could be poets, fiction writers, or essayists, rather than songwriters. Choose a time frame that works for you: a day, a week, two weeks, and so on. Then choose a theme, word, emotion, or lyric as the foundation for a song. You and your pal can collaborate on a song and submit it to each other for comments. It's even more fun and competitive when you're doing it with a friend and on a tight deadline.
Bonus tip: Going line by line is another writing activity that you may do with a friend. This can be accomplished via email, text, or in person. Begin a song with a line fr om a poem book, then swap lines with a friend. You compose one, he or she writes one, and the cycle continues.
5. Know how to use an emotion's vocabulary.
Being a creative writer does not always imply writing about novel concepts or feelings. Rather, it could simply be writing in a new way about emotions we've all experienced. Choose one of the following emotions: fear, love, joy, bittersweetness, anger, etc. Then, using a thesaurus, make a list of all the synonyms you can find that describe the emotion. Don't be scared to use phrases like "heart-breaking grief," "life-ending terror," and so on. Consider your vocabulary as a weapon. While a thesaurus should always be handy, having a large vocabulary of words to convey emotions will allow you to produce more material and write more creatively faster.
CONCLUSION
Be careful that you constantly remember how much, over your life, went into establishing your style. Many writers become dissatisfied with their lack of progress and attempt to reinvent themselves.
We give our services to create icons in the heart of the music business, Los Angeles, CA, at MIX Recording Studio. Hundreds of artists and huge labels, like Universal Music, Sony, Spinning Records, and Insomniac, have been using our platform to take their music to the next level, earning millions of followers and streams throughout the world. MIX Recording Studio assures that your song will be mixed and mastered professionally.