5 TIPS FOR A SUCCESSFUL PODCAST IN 2021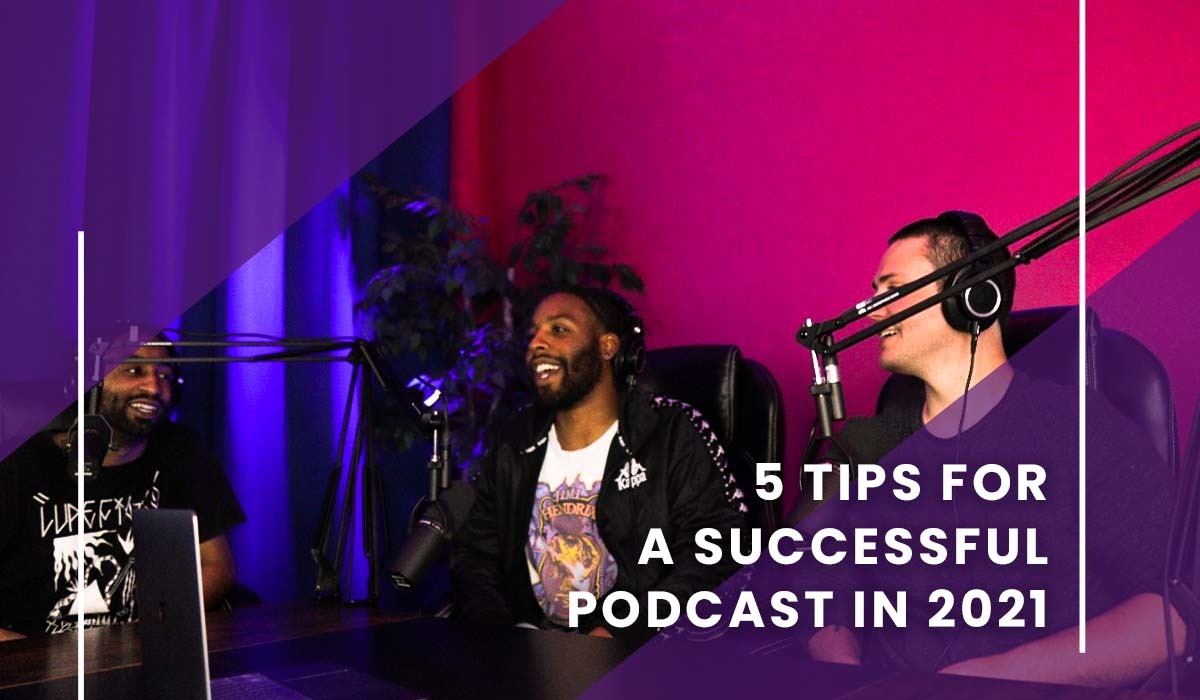 Consider being able to communicate your thoughts, ideas, and interests to the rest of the world! A podcast can now be used to share information with the click of a button and internet access. Today, everybody want to start a podcast. It's rapidly gaining popularity and it's being used to promote ideas, knowledge as well as brands and businesses.
If you're thinking of starting a podcast, there's no better time than now! Podcast industry is booming and it will continue to grow in the coming years. However to have a successful podcast career In 2021, with over 850,000 podcasts out there, you'll really need to stand out with your content and quality.
The truth is, you need little more than just knowledge about topics to discuss if you want to create something that makes a mark in the world of podcasts. The following are five tips that most successful podcasters agree on when it comes to creating a successful podcast.
1. Bring your best ideas and yourself.
First and foremost, you must have an idea. Ideas can begin small and grow into something massive. What will the topic of your podcast be? What topics do you enjoy discussing? What piques your interest and inspires you? What distinguishes you from the crowd? You must play to your strengths and leverage them.
You should also consider your format. Do you enjoy making Documentaries? What about monologues? Is this scripted material? What about conversations? If you're not sure what will work, experiment with a few different formats.
It won't be easy, and you won't become successful overnight, but strive to be the best and always give your all.
2. A clean recording is essential, keeping the right equipment in mind.
You could try using a smartphone, a USB mic, or a recorder to record your podcast. But recording it in a studio is always a better idea. The most important aspect about podcast audio is that it should be as clear as possible.
Good sound quality is essential, and you should not skimp on it. Invest in a microphone when you have the money or rather try having a recording session at the best recording studio in Los Angeles. If you do not want to risk your Podcast you can go to Mix Podcast Studio and book a slot.
3. Revise
It is essential to edit your podcast before uploading it. It gives your output a professional finish and allows you to remove elements that you may not want to include in the final product. There are dead airs, "ums" and "ahs," fillers, and other things that don't sound right.
Editing also allows you to add your own personal touches to the recording, such as stingers and jingles. Keep a close eye on your noise levels and try to keep them as even as possible. However, If you are going a professional podcast recording, At Mix Podcast Studio, you get great quality recording and our engineers will give you an edited audio file the very next day. High quality podcast recording with no hassles of editing.
4. Find a 'host' and take ownership of your podcast.
After you've completed your podcast file, you'll need to find a way to distribute it to an audience. For those of you who are technically savvy, you can self-host and write your own XML to generate an RSS feed. If not, platforms like Spotify, Soundcloud and Libsyn can provide you with a good starting point.
You can create a website while you're still new to podcasting. However, you must consider owning your podcast's domain name, RSS feed, and copyright, as well as investing in hosting. You're ensuring that your podcast and material remain yours and that none of your hard work is taken advantage of by others.
5. Increase brand equity
You will definitely survive and become successful once you have listeners who believe you can make a good podcast. Connect with your audience, be consistent in your efforts, and always give your best effort. Create a brand for your podcast and take care of it. Because your podcast is doing so well, you may be able to secure sponsors and commissions from large corporations. You could even become the internet's next big thing.
Conclusion
As a beginner, you need to work on ideas, content, audio quality and hosting. A professional recording will help you get the necessary quality to be at par with all the successful podcasts out there, considering you have engaging content and you're willing to work hard and work consistently.
You can choose the best
podcast studio in Los Angeles
, which has all modern capturing devices, engineer assistance and professional editing facilities. A good podcast studio has the right environment and space, technical assistance, and HD Audio + Video recording services to capture the tiniest of the dispositions and expressions as you record and edit your Podcast.