6 Artist Newsletter Tips to Keep Fans Connected with Your Music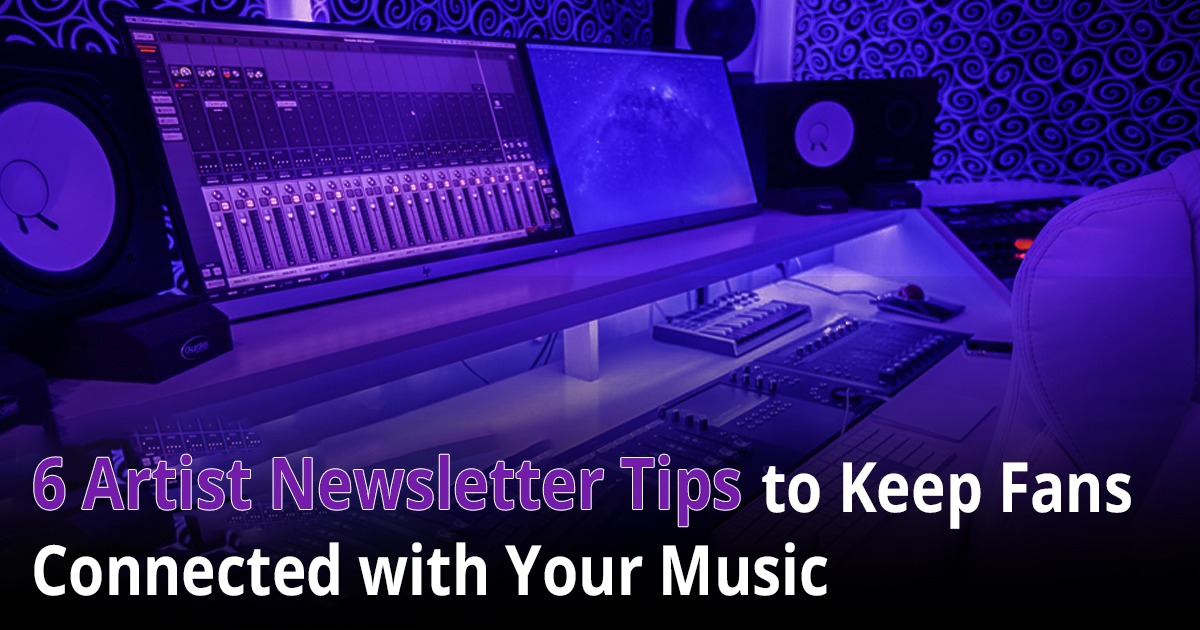 6 Artist Newsletter Tips to Keep Fans Connected with Your Music
While your followers are engaged in your music, it might be challenging to keep them informed of your activities and future plans. An artist newsletter is a fantastic method to promote your music and maintain an audience engagement.
You can share your most crucial information with your fans through a music newsletter. The inbox of a fan is a direct route to their attention.
Making sure the listeners most likely to support your music are aware of what you are doing should be a goal of your artist newsletter.
Read below and have a look at some of the tips on how to create an original and captivating newsletter that will keep your readers informed and enthused about your project.
Things to put in your music newsletter
With a special fan, you have the potential to share something distinctive about your art through your newsletter.
It also doesn't have to have a newsletter-like appearance.
You can share your most important information with your most interested audience through a music newsletter. The inbox of a fan is a direct route to their attention.
If you choose, your newsletter may consist solely of some cool photos from your most recent trip and a lovely poem.
Your music newsletter can contain anything you choose. Some of the common suggestions are:
Dates of any upcoming tours
Trailers for upcoming movies
Detailed information about singles, EPs, and albums
Clothing and merchandise drops
Provide links to new articles on your project
Invitations to donate to a cause or organization
Your poetry, lyrics, and works of art that discuss life
· One approach to sharing your art with your audience and displaying it is through your email.
Tips to create your music newsletter
1. Be honest
Asking yourself how would you best represent yourself in an email is the first step.
Your voice and artistic aesthetic are probably well-known by this point, so your emails shouldn't stray from that.
Your voice and artistic aesthetic are probably well-known by this point, so your emails shouldn't stray from that.
There is a suitable combination of colors, fonts, artwork, and language that works best for you, regardless of whether your music is moody and melancholy or bright and cheerful.
Send more than just what your readers would anticipate. Consider unconventional ideas and produce something unexpected, novel, and intriguing.
2. Gather emails politely
Don't send emails to those who don't want to hear from you since nobody loves to receive spam.
Finding a polite technique to gather emails is necessary.
Keep a list at your merchandise booth whenever you perform, and ask fans to provide their emails if they want to stay updated on your project.
To encourage them to join up, you might even provide them with a complimentary pin or sticker.
Ask for email addresses every time a fan visits your artist's website by including a signup form on it.
If you make a track available for free download on Bandcamp, you can trade downloads for an email.
3. Use Email tools and appealing templates
You might have a wonderful start. You put in the effort and successfully obtain your first 20 emails.
But what's next? You won't send your newsletter to each person personally, of course.
While it may be tempting to bcc everyone on your send list, using a free email marketing tool, such as MailChimp, Aweber, Constant Contact, etc. makes much more sense.
These tools make it simple to upload your contact list and send emails using attractive templates that are customisable.
In addition, if a visitor submits a signup form on your website, email marketing software will instantly update your contact list.
The best part is that you'll receive a variety of statistics on your send-outs so you can learn what people enjoy.
4. Offer something worthwhile
Give your newsletter's email subscribers a reason to be grateful they subscribe.
Offering restricted access to your works of art and releases is one method to achieve this.
Share an exclusive single with your followers and let them know what's coming up for you.
A minor discount on merchandise or performance tickets is a terrific way to remind your devoted supporters that you appreciate them. Additionally, you also earn some money!
5. Send reasonable and frequent emails
For your followers to know what to anticipate, it's best to select how frequently you want to deliver your email and stick to a plan.
Sending your newsletter on a monthly or bimonthly basis is definitely optimal.
Every-day newsletter distribution is unreasonable for everyone and could irritate your followers, especially if the material is poor.
So, nobody should be expected to publish a newsletter every day.
Sending fantastic newsletters frequently enough to be on your fans' minds without bothering them should be your primary objective.
6. Include objectives and subject lines
You must include a call to action in the body of every email you send.
The goal of your subject line should be to get the reader to open the email. We refer to this as the open rate.
The goal of your subject line should be to get the reader to open the email.
Once someone clicks the email, they will read the text and engage with any photos or other content that is present.
Your email will have a call-to-action that links to a web page if the purpose of the email is to persuade the recipient to visit your website, purchase concert tickets, or purchase merchandise.
Conclusion
If you want to promote your music, newsletters should undoubtedly be a part of your marketing arsenal. With the aid of contemporary email marketing instruments, they aren't overly challenging to complete. They can also be used to market merchandise and tickets!
The key is to keep your devoted followers interested and expand your fan base.
Simply be yourself and give worthwhile information, and your followers will adore you for it.
MIX Recording Studio offers various tips related to music production and updates you on the music industry.
To get more tips on music production, follow us.