6 Steps Amateur Artists Skip Before Releasing Their Record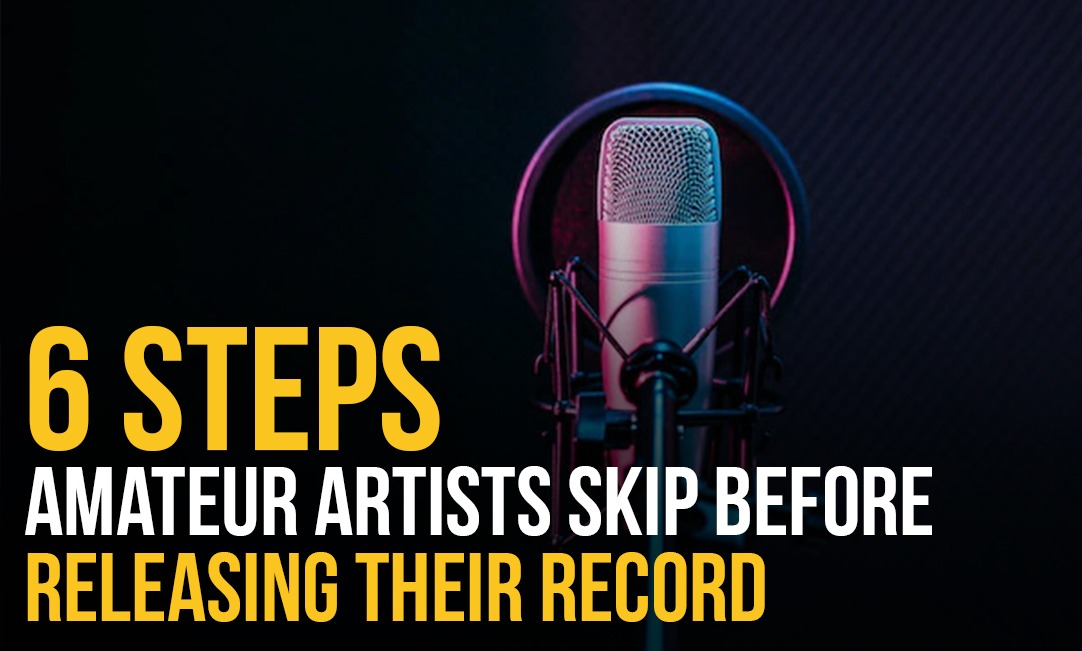 Are you ready to release your album? Sure, you're nervous as well as excited! It's a big deal. But before releasing your song or album, there are a few things that you must get done.
MIX Recording Studio not only helps you in the production phase but also educates you on issues related to various registration and copyright protection. Read the full article to know the 6 steps that you must complete before releasing your record.
1. Obtain your ISRCs & UPCs
These are unique identifiers of audio or music video recordings that are recognized globally. ISRC stands for International Standard Recording Code while UPC stands for Universal Product Code. ISRC consists of a 12 digit alphanumeric code that acts as a universal identification number for each song. On the other hand, UPC is the standard unique identifier for your album. These help to ensure that you're marketing the right song and album. These are required to stay visible on the system so that your sales figure gets counted.
2. Register your ISRC & UPC with Nielsen
Once you obtain your ISRC and UPCs, you're eligible to get registered with Nielsen SoundScan. It's a tracking system, which is operated by AC Nielsen and helps in tracking the sales of music and video streaming throughout the United States and Canada. It collects sales data weekly from the mass merchant, over 14,000 retails, and non-traditional outlets such as online stores, venues, etc. If you want your tracks to get listed on the most popular billboard charts, registration with Nielsen SoundScan is the gateway.
3.Register song with BDS
If you want to get full credentials from your tracks, get them registered with BDS, popularly known as Nielsen BDS. Broadcast Data System is a service owned by MRC Data, and tracks monitored radio, television, and internet airplay of songs that are dependent on the number of spins and detections. The service together with sales and streaming data from MRC Data contributes to North American Charts that are published by co-owned magazine Billboard, Billboard Hot 100, and Canadian Hot 100.
Since its inception in 1992, BDS has earned recognition as the standard for the radio and music industry. It accurately detects, tracks, and monitors songs and eliminates the need for reporting and call-outs to trades and records labels. It also helps songs that only receive airplay to become major hits.
To have BDS registration, submit your music for encoding by mailing the media to BDS.
4. Register song with Mediabase
A unit of iHeartMedia, Mediabase is a music industry service that monitors radio station airplay in 180 US and Canadian markets. The most played songs on terrestrial and satellite radio are updated on the music chart by Mediabase. It also assists radio and record industry professionals by providing in-depth analytical tools. If your song is registered with Mediabase, it may get a chance to appear in the music charts and airplay data that are used in many popular countdowns shows and television music awards show.
To register with Mediabase send your new music to the Mediabase Research encoding department. And please note, sending maximum information about your music and yourself would be helpful.
5. Set up an account with sound exchange
Founded in 2003, Sound Exchange works as a non-profit collective rights management organization. It provides valuable services such as the collection and distribution of digital performance royalties on behalf of over 245,000 music artists. Its technology helps to get data from Music Data Exchange (MDE), ISRC searches, and NOI (Notice of Intention) LOOKUP and generate accurate revenue for the creators.
6. Copyright registration
Now, this is very important. It is done to establish yourself as the first creator of a musical track. To copyright, your music is quite easy. Once you have written your music on paper or recorded it on an audio recording, you automatically copyright it. In this way, you're protected by the law and no one can use your song unless you permit them.
So why do you need copyright registration? Copyright registration is a formal certificate issued from the Copyright Office to ensure that you're the owner of the work. With this, you become the 'Prima Facia' of the musical composition. It's a legal process. You can obtain it yourself or with the help of a third party.
Conclusion
To become an artist is not just about creating something spellbinding. It requires more. You have to be through with its technical aspects and most importantly find platforms that can help your music reach millions of music lovers. So, if you're adamant about making your career in music, then you must follow the 6 steps to harness the full potential of your creation. These are not complicated and you can get them done yourself. However, if you're not able to complete them yourself, MIX Recording Studio is there for you. We can help you. To avail of our services, contact us.