Collaborating with Brands as a Music Artist: Dos and Don'ts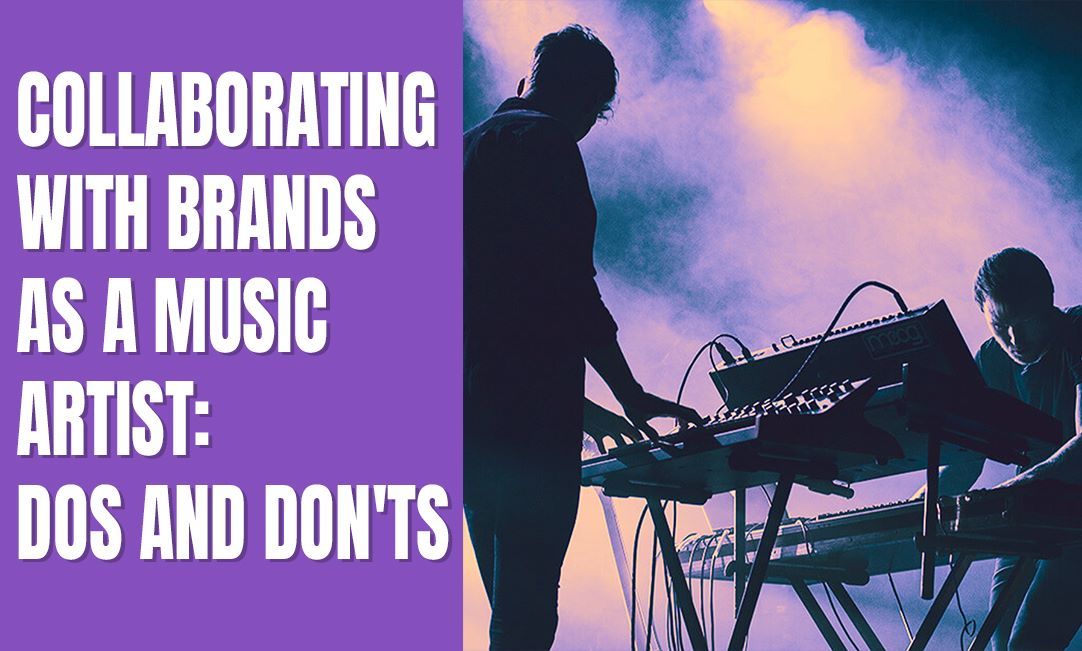 Date: 27-April-2023
Collaborating with brands as a musician can be a great way to boost your profile and broaden your audience. However, while collaborating with brands, you must be careful and careful. As these collaborations have the potential to be both advantageous and damaging to your career. In this blog, we'll examine some dos and don'ts of working with brands as music artists.
Dos of collaborating with brands as a music artist
It's crucial to be selective when working with brands and choose partners that align with your principles and portraying you in the best possible light as a music artist. This means that you need to spend some time researching potential collaborators. You must also assess whether your partners' brand message and target market coincide with your own. For instance, if you're an artist who cares deeply about environmental issues, working with a company that has a track record of environmental violations might not make sense. By being selective, you can make sure that your partnerships feel natural and meaningful rather than forced or unnatural.
After choosing a brand partner, it's crucial to produce content that feels true to your brand and connects with your audience. This entails closely collaborating with the brand to create content that is consistent with their objectives while also remaining true to your own unique creative vision and style. To establish credibility with your audience and make sure that your collaborations feel sincere and meaningful, authenticity is essential.
Next is the negotiation. Negotiate fairly and make sure you're getting paid fairly for your time and creative work when entering into a brand collaboration. This entails taking the time to assess your own artistic worth and negotiating a reasonable payment arrangement that recognizes your contributions to the partnership. By negotiating fairly, you can establish a productive working relationship with the brand and make sure you're getting paid fairly for your work.
Once your partnership has started, it's critical to monitor your progress and assess the partnership's effectiveness. This entails establishing specific objectives and success criteria, such as increased social media interaction or website traffic and tracking these parameters throughout the partnership. You can learn a lot about what's working and what isn't by keeping track of your results. Then, you can adjust as necessary to make the collaboration successful.
Finally, it's critical to publicize your partnership with the brand and let your audience know about it. Using your social media channels and other marketing avenues to advertise the partnership and promote your content is what is meant by this. You can expand your audience and visibility while strengthening your relationship with the brand by promoting collaboration.
Don'ts of collaborating with brands as a music artist
Compromise your artistic integrity
Maintaining your artistic integrity while working with brands is crucial because your music is your art. Keep in mind that while you might be tempted to accept a deal that conflicts with your morals or artistic principles. Keeping in mind that your fans are drawn to your distinctive voice and style, compromises can result in a loss of credibility and authenticity.
sign a contract without legal advice
It's imperative to get legal counsel prior to signing any agreement with a brand. A lawyer can review the agreement and make sure you comprehend its terms. They can also represent your interests and assist in negotiating favorable terms. Without legal counsel, you run the risk of making decisions that have unintended consequences and cost you money.
Accept an offer without doing your research
When a brand approaches you about a partnership, it's crucial to do extensive research on the business and its values. You don't want to be connected to a company that has a bad reputation or doesn't share your values. Making sure the collaboration fits with your brand and target market is also crucial.
Don't neglect your audience
Because your fans are the reason for your success, it's critical to take their preferences into account when working with brands. Avoid collaborating with people who might turn off your audience or undermine their faith in you. Always prioritize your fans and make sure the collaboration is something they will enjoy.
Forget about disclosure and transparency
It's critical to be open and honest about your partnership with brands. Tell your audience about the partnership and make sure it's obvious that it's a sponsored alliance. Your audience may stop believing you when you fail to disclose the relationship, which can damage your credibility.
Conclusion
For music artists, collaborating with brands can be a lucrative and exciting opportunity. However, there are some pitfalls to watch out for during the procedure. Look for the dos and don'ts of the collaboration and move forward wisely.
MIX Recording Studio, a recording studio in Los Angeles, assists aspiring and seasoned music artists in music recording, mixing, & mastering and production. We also offer a rental studio, professional photography, and videography. In addition, we keep you updated with the trends in the music industry.