Everything You Need to Know About Streaming on Spotify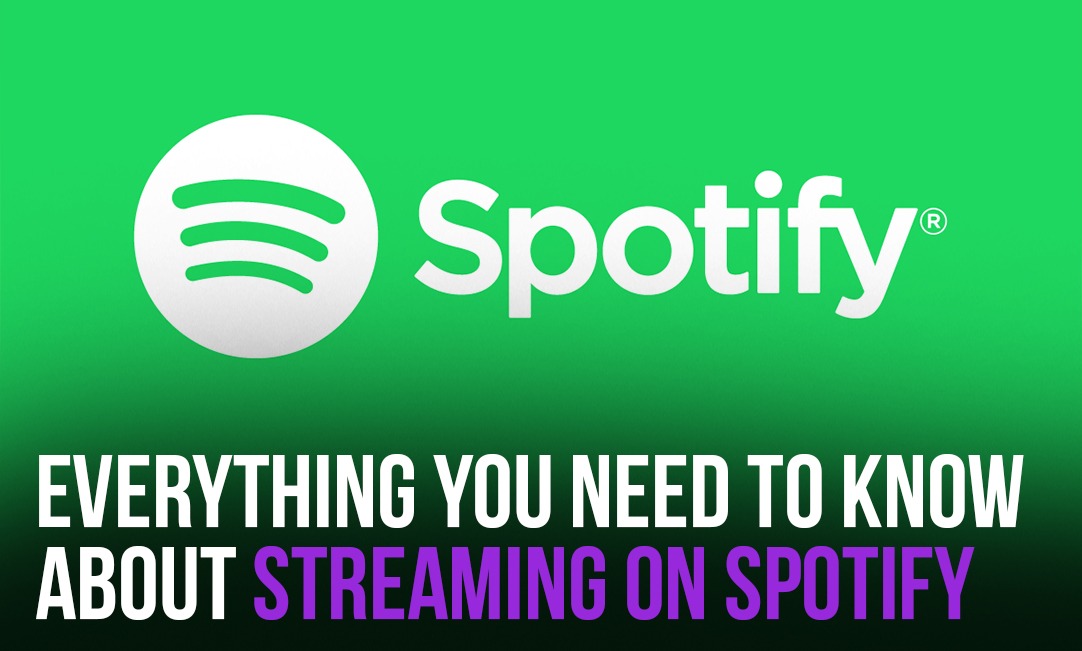 Streaming is here to stay, whether you like it or not. It would be impossible to disregard music streaming entirely unless you are already making money fr om other sources. Even if the rewards to copyright holders are contentious, it's a convenient (and seemingly unlimited) supply of music for your followers.
Spotify is one of the leading streaming platforms. It is the overwhelming leader in terms of paying users, with over 87.5 million listeners. Second in the line is YouTube with almost 50 million users, followed by Apple Music with 36 million.
In this blog, let us learn all about this powerful platform that can enhance your music career.
How to get your music ready for Spotify?
The first step to getting your music ready for Spotify is to create awesome music. Once you have got your music ready, get a distributor to help obtain a license and stream your music.
Spotify does not work with artists directly, but rather through distributors and record companies. They will be the ones to pay your streaming royalties because they manage all of the licencing and distribution. The sums you agreed on will be distributed fr om Spotify's payments, depending on the arrangement you have with your distributor.
Some of the recommended distributors fr om Spotify are CD Baby, Distrokid, EmuBands, The Orchard, FUGA, Danmark, Believe, etc.
How much do you get from Spotify per stream?
Any streaming platform's payout will have a different response for each of them. Currently, Spotify pays the "rights holder" on average between $0.006 and $0.0084 for each stream. If you're unsure of who that is, the record company, producer, songwriter, and artist might all be considered "rights holders." So it appears to be a pittance when you divide that meager sliver from each stream among everyone.
The actual amount you would receive for each stream depends on a number of factors, including the following:
The currency of the country.
Your royalty payment.
· Paid subscriptions versus free accounts.
The nation and location of the listener.
Using Spotify's statistics as an example, a song would need to be played 120,000 times simply to make about $1,000. At $0.0084 per stream. In addition, Spotify pays out on a quarterly basis, so you might have to wait a few months to receive your royalties.
Types of royalties from streaming on Spotify
The two common types of royalties that you can encounter when streaming on Spotify are as follows:
Publishing royalties: Publishing royalties are payments you receive for work you have done, such as writing or producing a song or having one of your songs covered.
Recording royalties: Royalties for the actual recording, such as those received when it is played on Spotify, in a commercial, during a sporting event, or in a restaurant.
Remember that the label or distributor and the contract you have with them will determine how much royalty you receive.
Create your Spotify profile
Now that you've prepared your songs and gained a better knowledge of royalties, let's move on. Let's now discuss ways to improve your appearance. Your profile is your homepage whenever you register into your Spotify for Artists account! You can share information about your upcoming tours and new releases there, among other things.
You'll have access to your avatar, header image, and an image gallery when it comes to images. We advise getting a couple of professional portraits of yourself that showcase your best features, such as a headshot or album cover. Make sure your images are in the appropriate file format (.jpeg, .png, or.gif), and that your avatar and header images are no larger than 6000 x 4000 pixels and 20 MB, respectively.
How to promote music on Spotify?
Playlist curated by Spotify
It is one of the finest ways to instantly release your song, but it might be risky. The staff editors at Spotify create playlists that are typically focused on a musical style, an emotion, or a noteworthy event taking place somewhere in the world.
The decision by Spotify to feature your music on one of these playlists used to be completely random, but they recently revised the policy to allow artists to submit unreleased tunes in advance for consideration. After submitting, pray that they choose your music. (Being chosen on the Spotify playlist is a gamble.) However, don't give up and keep submitting in case it doesn't happen again.
Rules you need to follow on playlist submission
· While it doesn't guarantee a spot in the playlist, submitting a song gives it the best chance.
· One song can be submitted at a time per artist profile.
· If a song contains both a clean and an explicit version, both are sent to the editors. The best playlist will be selected by editors.
Compilations cannot be submitted.
· If you are a featured artist on the song, you cannot submit it.
· A different song from your release may be chosen by the editors to be featured on their playlist.
· A song's duration on the playlist is determined by how well it connects with listeners and is not predetermined. A playlist won't let you take yourself off of it.
Incentives
Incentives are typically anything of value given in exchange for an action, such as signing up for a contest or promoting fanart, for example. Motivation need not necessarily be monetary. One illustration is holding contests wh ere participants must retweet or like a social media post in order to win a free copy of their most recent album or single. Release the song and invite your followers to use it as inspiration for works of art. Perhaps you could use the winning work to create merchandise or your upcoming album cover.
Use the robust mailing list
It's time to utilize that fresh, comprehensive mailing list once you've amassed a fanbase and gathered emails. Inform your followers via email about the release of your new song, its inspiration, your creative process, and the locations wh ere they can listen to or purchase it.
Social media ads will help you
Your social media profile, which we are sure you have, is of the initial points of contact between artists and their followers and would be the quickest way to inform them of brand-new releases. If you shout to the same old followers all the time, it won't help. Another strategy for reaching potential new fans is to run customized Facebook advertising based on your music. These advertisements can be expanded to include Instagram as well as Twitter, Snapchat, and many other platforms. Your reach will grow as you lasso more platforms.
Behind the scene insights
The reasons for the popularity of "behind the scenes" documentaries are many. Everyone loves getting a glimpse behind the scenes and traveling with you. Your audience will feel a strong connection to the music and desire to repeat those feelings if you give them a small glimpse inside your creative process.
Conclusion
Thus, we have given a brief idea about streaming on Spotify. You may start streaming with Spotify by following our most important guidelines, tips, and exclusive information. Spotify is a great platform wh ere musicians can easily connect with their fans in a practical and international way. So, do not hesitate to use Spotify to your advantage. get in touch with us if you have any inquiries about streaming your music. MIX Recording Studio , a professional recording studio helps build your music career in several ways. Besides, helping you with music production, we also help you with professional photography and videography that you can use for your album cover or for music promotion.