Finding Your Perfect Match: Tips for Artists Looking for the Right Producer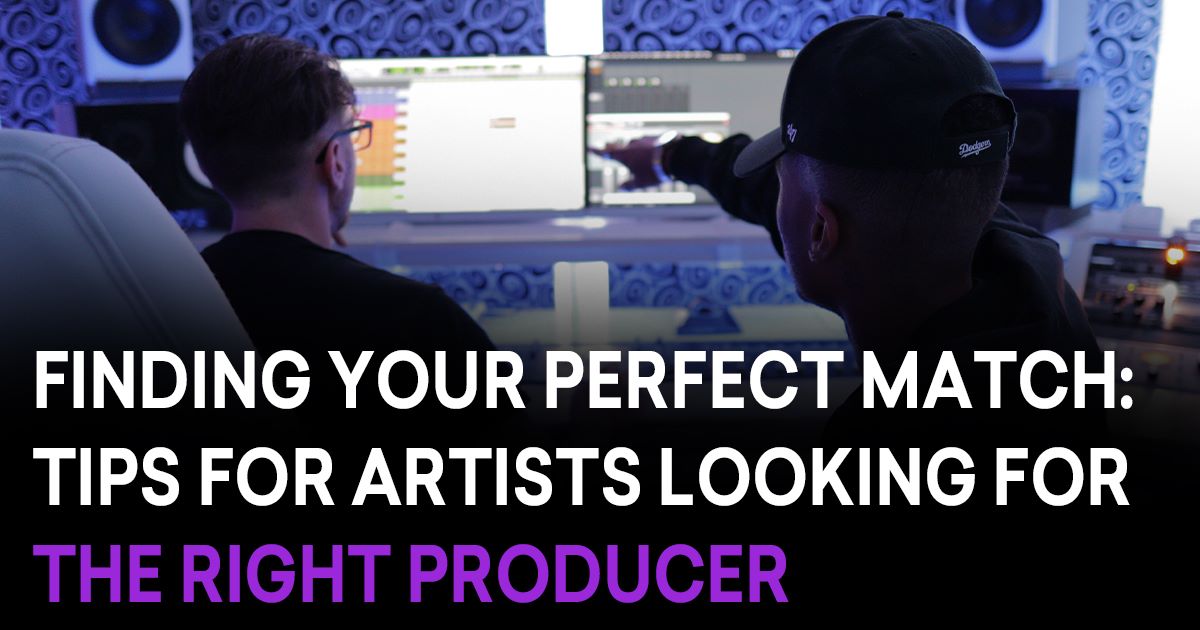 Date: 21-Mar-2023
Finding the right producer can be a difficult task for any music artist. A producer can make or break an album or project, so it's critical to find someone who understands and can bring your artistic vision to life. But before finding a music producer, you must understand what roles music producers perform for music artists. Read the blog to know how music producers can help you and how you can find the right music producer. Besides, this blog will briefly discuss the difference between a music producer and a sound engineer.

What do music producers do?
Music producers work behind the scenes to create, shape, and oversee the recording, and mastering of music mixing. They are the guiding force behind the artistic direction of a music project. They ensure that the final product meets the creative vision of the music artist, and is of high quality. They will help you in pre-production, creating music arrangements (custom beats), recording, mixing, mastering, and even business and marketing.
Music producer Vs Sound engineer
Although both music producers and sound engineers are essential to the process of making music, their roles, and set skills are somewhat different.
In the above section, we have come to know the roles of music producers. They have a more holistic, creative role in the music-making process. They are in charge of overseeing the creative direction of a musical project fr om pre-production to final mastering.
A sound engineer, on the other hand, is primarily concerned with the technical aspects of recording and mixing music. They must record instruments, vocals, and other sound sources in high definition, and then combine those recordings to produce a polished final product. To adjust levels, add effects, and enhance the recording's audio, sound engineers use specialized tools and software.
Steps for finding the right producer for your song
1. Determine Your Goals and Expectations
Before you start looking for a producer, it's essential to identify your goals and expectations. What do you aspire fr om your music? What kind of sound are you after? Are you aiming to produce a mainstream success or something more avant-garde and experimental? Finding a producer who shares your goals for your music will be easier if you are aware of them.
2. Research Producers
Once you have determined your objectives, it is time to begin looking for producers. Search for producers who have collaborated with artists whose sound is similar to yours, and check to see if their output matches your artistic goals by listening to it. You can also seek recommendations from other musicians or business experts. Here are the places wh ere you can find the right producer:
Music Events: Attending music industry events such as conferences, showcases, and networking events is an excellent way to meet potential producers. These events provide an opportunity to network with other musicians and industry professionals, and you might even meet someone who can introduce you to a producer.
Recording Studios: Recording studios are a great place wh ere you can find a perfect music producer. Here, seasoned and aspiring music artists get their music recorded and produced and also come in contact with or get links to different people from the music industry.
MIX Recording Studio, a music recording studio in Los Angeles, is one of the best places that can assist you in getting the right music producer. It has portfolios that fit your work and has, multiple producers, for you to choose from, so you can see what kind of environment you might be working in. You can visit the music recording studio in Los Angeles to find the ideal producer.
Online sites: The Internet is a great way for finding a music producer. There are websites solely for finding audio and music industry professionals. Some of the most popular ones are Gemtracks, SoundBetter, Melody Nest, AirGigs, supreme Tracks, and others. You have a ton of filter options available when using these sites. Budget, genre, reviews, location, etc. are a few of these. As a result, this might be a useful method for determining the caliber of producers available to you within your budget and genre.
3. Have a Budget
Producing music can be expensive, so it's essential to have a budget in place before you start working with a producer. Determine how much you can afford to spend, and be upfront with potential producers about your budget. This will help you avoid surprises down the line.
However, I suggest, never going for low-budget producers as can eventually prove you more expensive or could be a disaster for your music career. Take your music seriously and treat it with the respect it deserves. Several music artists hire low-budget producers but ended up spending much more as much on additional re-recordings, remixes, mastering, and other services because they were unhappy with the final version. They also lose interest in working on the song because they get worn out from the entire process.
4. Schedule a Meeting
Once you've found a potential producer, set up a meeting to go over your project. This meeting will be an opportunity for you to get to know one another and decide whether you click. You should ask the producer about their process and experience while discussing your objectives and expectations. There are certain questions that you must never forget to ask your prospective producer. These are
The procedure – Asking only "What is the procedure for a project like this and is there anything you need from me beforehand" can make the process easier and aid in your preparation.
What would be included and not included – Any issues that might arise during the process for which you haven't planned ahead or given yourself enough time should be known to you. For instance, some producers only provide the song's creation; they do not provide the song's mixing. Others will want to hire studio and session musicians, while some will offer to play the required instruments. Some will provide a complete package, while others will provide separate stages. Verify the value of what you are receiving before investing time or money.
Use reference tracks – Don't be afraid to use reference tracks. Regardless of how creative you or your producer may think you are. I can assure you that similar work has been done before, which is fantastic. consequently, you can achieve those remarkable results much more quickly. In fact, going forward, just name the song that comes to mind whenever you need to describe a sound, vibe, or quality to a producer, mix engineer, bandmate, or friend.
Time duration and budget – This is extremely important. You should know how long the producer will take time for work to complete and how much it will cost.
5. Look for Chemistry
Last but not the least, finding the right producer requires more than just technical proficiency; it also requires chemistry. Working with your producer should inspire and make you feel at ease. You want to collaborate with someone who can support the realization of your artistic vision.
6. Create and sign a Music Production Agreement
Once you have found the right producer to work with, create and sign an agreement. It is a legal document that defines the scope of the project and outlines the terms and conditions between the producer and the music artist. It aims to protect the interest of both parties and ensures fair compensation for their contributions to the project. You must consider the following aspects for creating and entering a music production agreement with your producer:
The first step is to define the parties involved in the agreement. It must include full legal names, addresses, and contact information of the music artist and the producer.

Next, the agreement should clearly define the roles and responsibilities of both the music artist and the producer and include details, such as who will handle the production, recording, mixing, and mastering of the tracks.

The agreement should also specify the producer's fee, any royalties or publishing rights, and the ownership of the master recordings as payment for the services. It must contain how and when payments will be made.

It should specifies include an ownership and copyright section that who is in charge of the master recordings and any copyrights, trademarks, or other IP rights connected to them. Any limitations, such as those on distribution, sale, or licensing, should also be described in this section.

The term and termination section should clearly define the duration of the contract, including the beginning and ending dates and any potential extensions. It should also describe the grounds for termination, such as mutual agreement or contract violation.

Another section should specify the parties' mutual obligations to maintain confidentiality, including safeguarding any business secrets, confidential information, or personal data.

Clearly specify the law and jurisdiction that will apply to any disputes arising from the agreement. It may be applicable to local, state, or federal laws.

After the contract is complete, the music producer and the music artist should both sign and date it. This ensures that both parties accept the terms and conditions and creates a legally binding contract.
Conclusion
So, who is the right producer for you? The one who will inspire you to write a brilliant song and whom you will also get along with.
Though finding the right producer is a time-consuming process and requires effort, it is worth while. Remember to have clear goals and expectations, research potential producers, attend industry events, have a budget, schedule a meeting, and look for chemistry.
MIX Recording Studio, a music recording studio in Los Angeles, is equipped with the latest equipment to record and produce high-quality sound and has experienced sound engineers who can perfect your tracks and make them sound professional.
Visit the best music recording studio in Los Angeles to record and produce your music. Here, we can also help you meet the ideal music producer with whom you can work and realize your artistic vision.