Getting Your Music on Streaming Platforms: A Step-by-Step Guide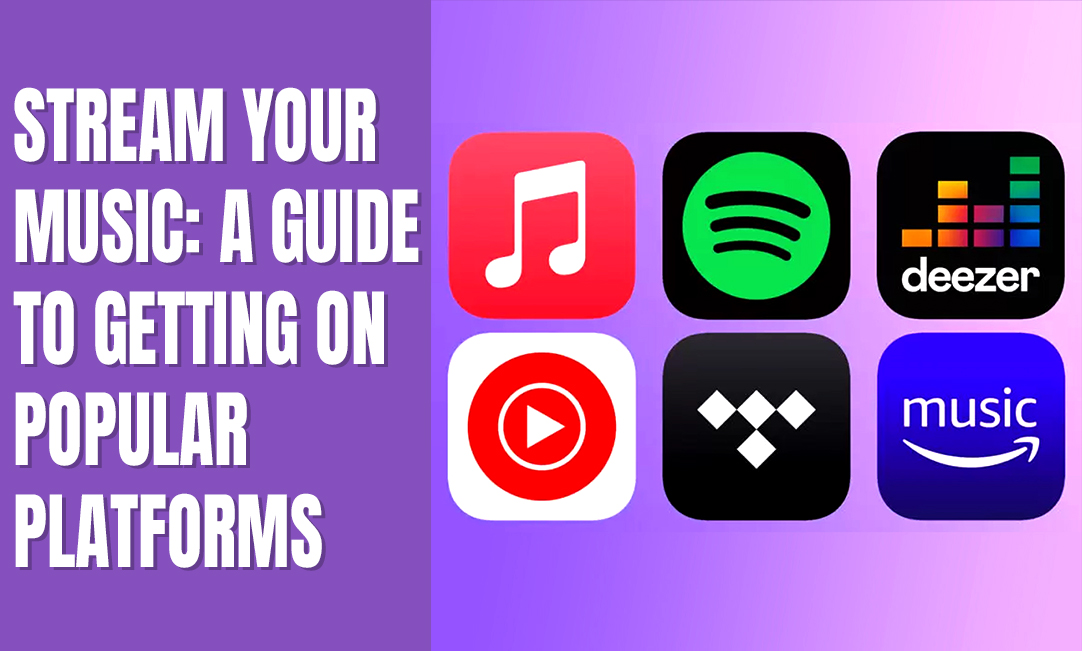 Date:11-May-2023
With the rise of music streaming platforms over the last decade, the music industry has undergone a significant transformation. As a music artist, having your music available on streaming services, such as Spotify, Apple Music, and Tidal can help you reach a larger audience and grow your fan base. This blog will walk you through the step-by-step process of getting your music on streaming platforms.
Step 1: Choose a distributor
The first step is to find a music distributor who can assist you in getting your music onto streaming platforms. A distributor acts as a go-between for you and the music streaming platforms, assisting you in uploading your music and making it available for listeners to stream and download. There are numerous music distribution companies available, including DistroKid, TuneCore, and CD Baby. Choosing the right music distributor is an important step in getting your music on streaming. There are several factors to consider when selecting a music distributor.
Different distributors have different fee structures, so it's critical to find one that works within your budget. Some distributors charge a set fee per release, while others take a percentage of your profits. Some distributors also provide tiered pricing based on the number of releases or services needed. Before selecting a distributor, make sure to read the fine print and understand all the fees involved.
Another important factor to consider is the distribution reach of the distributor. You should select a distributor who can get your music on as many music streaming platforms as possible. Some distributors work with only a few platforms, whereas others work with dozens. Make certain that the distributor you select can get your music onto the platforms where your fans listen.
The user interface of the distributor is also an important consideration. You want a distributor who has a simple and user-friendly interface for uploading your music and managing your releases.
Some distributors also offer additional services besides distribution, such as marketing and promotion services to help get your music noticed.
You can research music distributors and make a wise decision according to your requirement.
Step 2: Prepare your music
Preparing your music for streaming is an important step in ensuring that it sounds great and is easily accessible to listeners on music streaming platforms, such as Spotify, Apple Music, and Tidal. It includes:
Be ready with your mastered music for distribution. Mastering is adjusting the overall volume, EQ, and compression to make your music sound balanced and consistent. A well-mastered track will stand out from poorly mastered tracks on music streaming platforms.
Uploading music to streaming platforms typically necessitates the use of specific file formats. Check the platform's specifications and format your music accordingly. Most platforms support high-quality WAV or FLAC files, and some also support MP3s.
Metadata helps your music get identified on music streaming platforms. It includes information, such as track title, artist name, album name, and genre. Make sure to fill in the information accurately to make your music appear in relevant searches and easier for listeners to find it.
Create an eye-catching cover art
When listeners come across your music on streaming platforms, the first thing they will see is your cover art. Make sure to create high-quality cover art that accurately represents your music and draws the viewer's attention. The cover art should be in square format and meet the size and resolution requirements of the platform.
Step 3: Sign up with a distributor
It's time to sign up with a distributor after you've selected one and prepared your music. Signing up typically entails creating an account and providing basic information about yourself and your music. This may involve providing basic information, such as your name, email address, and payment information. Some distributors may also require you to provide identification or tax information.
Following that, you must select your distribution options. This could include deciding which music streaming platforms your music should be available on, deciding on pricing and revenue-sharing options, and deciding on any additional services you need, such as marketing or promotion.
Step 4: Pay the distribution fee
Once you have gone through the above steps, it's time for fee payment. You need first to determine the amount of the fee you have to pay. The fee varies depending on the service you select and the number of songs or albums you intend to distribute. Make sure you carefully read the service's terms and conditions to ensure you understand the fee structure.
Now you can make the payment. Most distribution services accept credit card, PayPal, or bank transfer payments. Some services may also accept alternative payment methods, such as cryptocurrency or prepaid cards. Check that you have the necessary funds and select a payment method that is convenient and secure for you.
Step 5: Upload your music
After signing up with a distributor and completing all the necessary steps, you can submit your music for distribution. You may be able to upload your music directly through the distributor's website or through a third-party platform, such as Dropbox or Google Drive, depending on the distributor's requirement. Make sure to carefully follow the platform's instructions and upload your music in the proper format. You may also be required to supply metadata and cover art for each release.
Your release will be reviewed by the distributor to ensure that it meets their quality standards and is properly formatted. Your music will be sent to the music streaming platforms you've chosen once it gets approved.
Step 6: Choose your release date
Once your music has been uploaded and approved, you must select a release date. This is the date on which your music will be available on streaming services. Choose a release date that allows you enough time to promote your music and build excitement among your fans.
Step 7: Monitor your distribution
As your music is available on different music platforms, it is critical to monitor your distribution to ensure that your music is being distributed correctly and that you are receiving royalties for your streams and downloads. The majority of distribution services include a dashboard or analytics tool that allows you to track your sales and streams across multiple platforms.
Step 8: Promote your music
Finally, it's time to start promoting your music. For this, you must utilize all the trending ways, such as creating an online presence through a website, using social media platforms, such as Instagram, Twitter, Facebook, and TikTok, and paid advertisement. You should also submit your music to blogs and playlists. Besides, you must keep performing live at local venues, open mic nights, or even virtual concerts on platforms like Twitch or YouTube.
By promoting and marketing your music, you build anticipation among your fans and also encourage them to pre-save or pre-order your music on the music streaming platforms to help boost your chances of success.
Remember, promoting your music is a continuous process that necessitates creativity, perseverance, and dedication. You can increase your chances of success and build a loyal fan base that will support your music for years to come by implementing the mentioned strategies and constantly experimenting with new ideas.
Conclusion
Getting your music available on streaming platforms is an excellent way to increase your exposure and reach a larger audience. You can easily distribute your music to all major music streaming platforms and start building your fan base by following the steps outlined above. Remember that success in the music industry takes time and effort, so stay focused, work hard, and never give up on your dreams.
MIX Recording Studio, a music recording studio in Los Angeles , assists aspiring music artist with several music production services, such as a rental studio, sound recording sessions, and mixing and mastering services, and also offer professional photography and videography that can be used during promoting your music.