How MIX Recording Studio Provides Unique Solution for Mixing And Mastering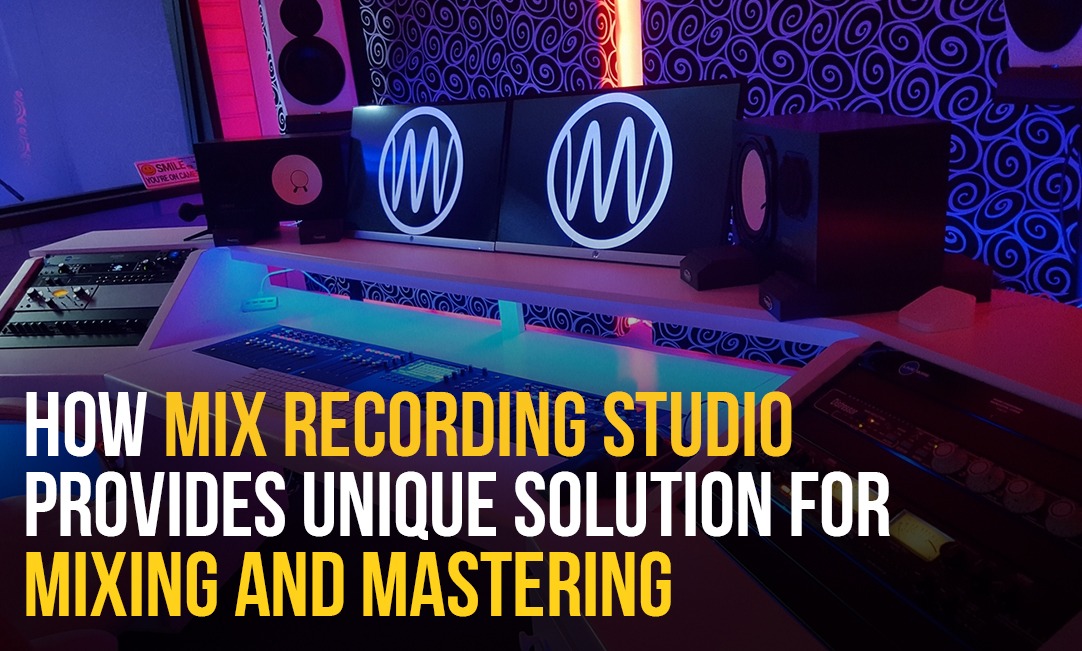 Although mixing and mastering are two separate steps in the audio production process, they are equally important. The first step is combining and modifying innumerable audio tracks from your DAW to generate a single stereo audio file. EQ, compression, effects like reverb, and delay are used to blend your recorded audio files, balancing their volume, frequencies, dynamics, and spatial placement during the mixing process.
Once the is done and the mix-down prepared, it's now time for mastering mixing the stereo file. It's the process to ensure that the song is polished and makes the mix sound vast, broad, strong, and loud. It also ensures that your song sounds finest when played on all audio devices during the process. When mastering an album, it's important to make sure that all the tracks are played at the same volume creating a sense of flow. Without mastering, no song should be ever released.
MIX Recording Studio has a wide experience in mixing and mastering music. And we are now coming up with an online mixing and mastering service. With our latest service, an artist can connect us from all over the world. This allows artists to email their recordings to be mixed in our studio without ever leaving their homes.
How MIX Recording Studio provides a unique solution for Mixing and Mastering:-
1. Unique Approach to Mixing
We have a unique approach to mixing that can employ best be described as "mixing and mastering your song as if it were ours." To put it another way, we mix your song as if it's our music, and we let you know if we find any flaws or ways to improve it. Professional mixing and mastering entail applying pitch correction (creative Autotune, Melodyne), compression, EQ, reverb, delay, and panning to your vocal and instrument recordings correctly. To ensure that your music becomes an industry-standard product ready for TV, radio, and streaming platforms.
2 Experience
Audio Engineers of MIX Recording Studio have over 20 years of professional mixing and mastering experience in many kinds of music, as well as experience as a musician, making it simpler for them to relate to musicians, understand their challenges, and accomplish desired outcomes for any artist.
3.Price
It is possible to spend a lot of money on mixing and mastering! An ordinary artist has always found MIX Recording Studio's services to be fairly reasonable. We offer online and mastering mixing services in several price ranges, including advanced, VIP, and ICON. There isan add-on service to our packages, such as SINGLE, which any artist can acquire without purchasing any other products! The amount of tracks in a song determines the price; the more tracks in a song, the longer it takes to mix them all. You can visit our website for more information.
4. Mixing based on track limit
Each song has multiple tracks: kicks, snares, hi-hats, bass, vocals, synth, piano, and so on. Each of these is referred to as a track. When we say "16 track mix," we're talking about combining 16 different tracks within a single song. To make your songs sound best, we need all of the track outs like kicks, snares, hi-hats, bass, vocals, and ukulele (don't forget the ukulele) to be unique waveform so we can mix the entire song better.
5. Turn Around Time
Mixing and mastering services are considered time-consuming because they are dependent on how the track will turn out and whether it will fit the performer. A track's complexity is determined by its structure, the number of people who worked on it, and the recording quality. It's worth mentioning that engineers who work on poor recordings spend a lot of time fixing them rather than putting together a creative mix. The mixing and mastering process is usually completed in 4 to 8 days.
MIX Recording Studio, on the other hand, has a well-organized SOP and job process flow that allows their engineers to finish a song in 3 to 5 days. Our organization is always open to your comments before our engineers begin working since we value your time. We don't just mix and master music; we also listen to it for a few days, edit it, and test it on numerous devices.
6.Customer service
We are fully aware of the importance of maintaining contact with our customers. If you have any more questions, requests, or requirements, you can always contact our support staff, who are available to you 24 hours a day, 7 days a week. Our team always pays attention to our customers and strives to answer their inquiries or meet their needs. Each of them tackles their work with a high level of responsibility, ensuring that our clients are 100% satisfied.
CONCLUSION
We provide our services and create icons in the heart of the music industry, Los Angeles, CA, at MIX Recording Studio. Hundreds of artists and big labels, including Universal Music, Sony, Spinning Records, and Insomniac, have used our platform to take their music to the next level, acquiring millions of followers and streams around the world. MIX Recording Studio guarantees that your song will be professionally mixed and mastered.