How to Write a Song in One Day With Only an Idea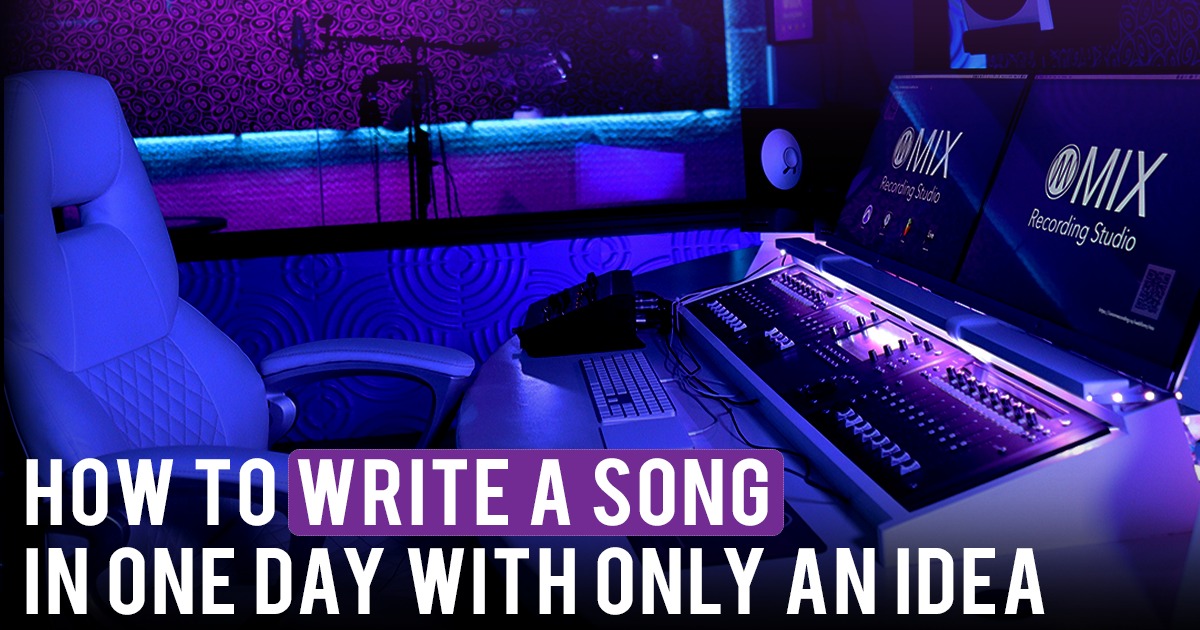 Writing a good song is indeed a tough job and writing it in a day with only an idea is even more difficult.
However, great albums and songs are created that too under tough time constraints; some even go on to become popular songs.
As a new songwriter, you must be wondering how such songs are written.
MIX Recording Studio, a professional recording studio, is a one-stop shop that offers solutions for artists to make their careers in the music industry. We understand your problem and here we are to help you solve your problem. I have gathered some wonderful ideas for songwriting fr om songwriters around me.
Read below to learn how you can write a song in a day with only an idea.
1. Fix a designated writing time
To be very honest, finding time to sit down and write is never simple. In actuality, the majority of authors and artists I've encountered have full-time jobs. They want to rest once they are back fr om their regular work schedules and side jobs. But we can schedule time for ourselves to devote to writing, just as we manage to schedule our workouts, coffee breaks, and time for daily activities like eating and taking a shower.
Even if you can commit to composing for 30 minutes at a time, you'll be making progress toward your goal of writing a song every day. Additionally, setting time limits is a useful strategy as well. The most crucial thing is to make a commitment and schedule time specifically for writing so that it doesn't conflict with other aspects of your life. Once you are used to doing so, songwriting would become easy and you can do it spontaneously.
2. Don't give excuses
You must not stop writing or take a day break just because you are not getting an idea.
The truth is that there are always a variety of techniques to break out of a writing slump. For instance:
Reconsider a concept that didn't sit well with you yesterday, a month ago, or a year ago! Your song notes will help you.
· In the absence of a lyric, create a new chord progression.
· Play some of your favorite songs while you jam, and your brain will be in a musical tizzy.
· To expand your creative limitations, try composing something that sounds like that artist rather than yourself.
Let not excuses such as writer's block (a convenient excuse) hide you from writing.
Continue writing, to achieve the aim of writing a song in a day. Never take a day off, if you don't feel inspired. As I have mentioned earlier in this point, look for something else.
3. Waiting for inspiration is a waste of time
Song seeds are brief thoughts that occasionally enter (and frequently exit) your mind and look flimsily intriguing. Write it down and come back to it later, whether it's a complete notion or just a humorous thing.
You'll wait an eternity if you wait around for inspiration to strike. Turning the flow of inspiration on and off is undoubtedly made much simpler and faster when you have that list of intriguing ideas.
Make it a habit of going back to your song notes. There you will find an abundance of ideas to inspire you.
4. Set side a time lim it for writing
Besides fixing a writing time, you must also lim it the time for writing a song. Limiting your time is sometimes the best way to make every minute count. In order to become an accomplished songwriter, you should make quick judgments. It will teach you to trust your gut and follow your instinct. So, start writing whatever comes to your mind without wasting a lot of time on your thought process. You can always go back and edit it to make it perfect.
5. Treat song-writing seriously as a job
You must approach song-writing as a profession if you want to turn it into a career. Think about informing your boss that you were not able to complete the given assignment just because you lacked an idea for it. Will it work? never. Likewise, treat songwriting as a job. Following this, whatever the situation you confront, you will find yourself coming up with a song by the end of the day.
6. Collaborate with others
You will find it beneficial. Working with another person means you have another brain. It could spark an idea that is so thrilling you can't help but write it, and if yours get exhausted in between or start feeling tired, the other will take the idea further.
Moreover, accountability is shared among co-writers. Nobody likes to submit mediocre work when someone else might use it. Finally, this is an opportunity to practice making decisions more quickly.
7. Write confidently
Do not force yourself to be a perfectionist all the time. It is better to write anything but with confidence. Free yourself from the idea of ​​producing outstanding work every time. Practicing it will help you develop a more distinct sound and learn to trust your instincts and the purity of your voice, leaving your mind open to limitless possibilities.
Conclusion
Use the above ideas for songwriting. These will help you make a spontaneous and confident songwriter. Thus writing a song in a day with just an idea will always be an easy task.
MIX Recording Studio offers rental studio and music-production services such as recording audio, offline and online mixing and mastering services , professional photography and videography, and more to help budding and seasoned artists move ahead in their music careers.