LA's Top Sound Engineering Schools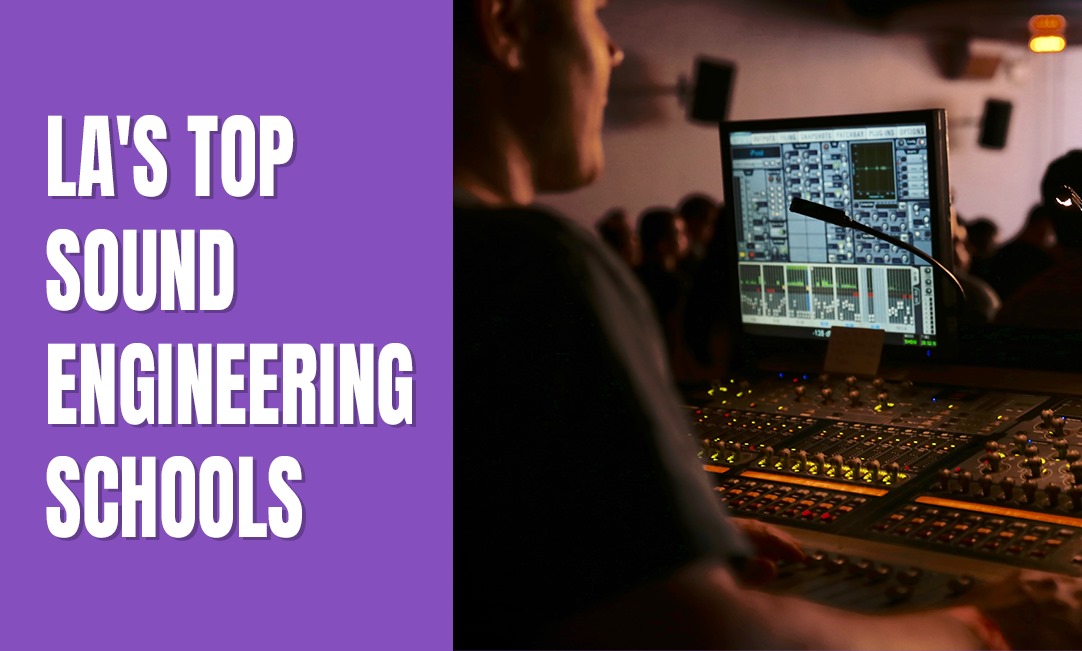 30-Aug-2023

Los Angeles, the world's entertainment capital, has always been at the forefront of the music and film industries. With a thriving cultural scene and a rich musical heritage, it's no surprise that the city is home to some of the top audio engineering schools in the country. These institutions give aspiring audio enthusiasts the skills, knowledge, and hands-on experience they need to pursue a successful career in the ever-changing field of sound engineering. In this blog, we'll look at some of LA's best sound engineering schools, recognized for their outstanding programs and industry connections.
1-The Los Angeles Recording School
The Los Angeles Recording School (LARS) is a premier institute specializing in sound engineering and music production. LARS, located in the heart of the entertainment district, provides a comprehensive curriculum designed to provide students with the skills and knowledge required to excel in the competitive field of audio engineering.
LARS provides students with a well-rounded education. It offers hands-on training in music production, live sound, post-production, and audio engineering. World-class recording studios, editing suites, and an impressive array of industry-standard equipment are available at the school. Furthermore, LARS benefits from its affiliation with the Los Angeles Film School, which opens up new avenues for collaboration between sound engineers and filmmakers.
The immersive learning environment at the school encourages creativity and collaboration, preparing students for real-world challenges in the music, film, television, and gaming industries. It also provides career development resources and networking opportunities for students, connecting them with industry professionals and potential employers.
The top audio engineering school attracts aspiring sound engineers and music producers because of its reputation for excellence, industry connections, and the opportunity to learn in one of the world's most vibrant and influential music scenes. Some of the sound engineers who graduated from Mike Daley, Marco Sonzini, Jaycen Joshua, David Boyd and others.
It offers courses, such as
Bachelor of Science in Audio Production – 36 months course; Tuition Fee: $ 20,350

Address: 6690 Sunset Blvd, Los Angeles, CA 90028

2- Icon Collective
Icon Collective is well-known for its outstanding sound engineering and music production programs. It is a forward-thinking institution devoted to electronic music production and sound design. Located in Burbank, just outside Los Angeles, Icon provides aspiring producers and sound engineers with a one-of-a-kind and immersive learning experience.
This top audio engineering school emphasizes electronic music that aligns with LA's thriving EDM and dance music scene, making it an excellent choice for those interested in pursuing a career in this genre. Music theory, sound synthesis, mixing and mastering, and industry-specific software and hardware are all covered in the curriculum.
Icon Collective focuses on hands-on training and practical experience, providing students with modern facilities and industry-standard equipment.
The emphasis on creativity and individuality distinguishes Icon Collective. While receiving guidance from experienced instructors and industry professionals, the school encourages students to explore their unique artistic vision and develop their own sound.
Graduates of Icon Collective have achieved notable success in the music industry, working alongside renowned artists and producing chart-topping tracks. Some popular graduates from ICON Collective are Bonnie X Clyde, Jauz, Jkyl & Hyde, and more.
It offers courses, such as
Advanced Music Production Program – 18 months course; Tuition Fee: $ 38,995

Address: 100 E Tujunga Ave# 100, Burbank, CA - 91502
3-Thornton School of Music
The Los Angeles-based Thornton School of Music is renowned for its top-notch sound engineering programs. It provides a thorough program that prepares students for fruitful careers in the music industry as a leading institution in the area. Thornton offers a dynamic and engaging learning environment.
Thornton's sound engineering program emphasizes technical mastery, creative expression, and business knowledge. Utilizing the latest equipment, students gain practical experience in recording studios, live sound venues, and post-production facilities. Industry experts and accomplished engineers comprise the faculty, who offer mentoring and direction.
Thornton places an emphasis on creativity and innovation in addition to technical skills, encouraging students to explore their artistic vision and create their own distinctive sound. Students develop a thorough understanding of the music production process through collaborations with other musical disciplines, such as composition and performance.
This top audio engineering school produces skilled professionals with the education, background, and contacts needed to succeed in the cutthroat music business. Some of the sound engineers who graduated from Thornton School of Music are Andrew Scheps, Al Schmitt, Leslie Ann Jones, Michael Parnin and more.
Music production course offered by Thornton School of Music
Bachelor of Music – 4 yrs course; Tuition Fee: $ 79,000

Address: USC Thornton School of Music, 840 W. 34th St. Los Angeles, CA 90089-1441

4-University of California, Berkeley
The Music Department at the University of California, Berkeley, is one of the oldest and premier sound engineering schools, offering a comprehensive and the latest program for aspiring audio professionals. With its strong emphasis on practical training and industry connections, Berkeley provides students with a dynamic and immersive learning experience.
The current department paints a picture of continuity with that era as well as change. The curriculum now includes music from the Middle East, the Caribbean, Japan, India, Indonesia, and the Americas, in addition to music from Europe and the Americas. It covers several disciplines, including recording techniques, mixing and mastering, acoustics, music production, and sound design for various mediums.
Since its inception in 1905, the top audio engineering school has grown significantly. Currently, it consists of four buildings, a curriculum with about 160 majors and 65 graduate students taught by 20 full-time faculty members. The faculty consists of industry experts and experienced professionals who bring their expertise and network into the classroom.
The department connects with hundreds of students from other departments, its numerous alumni, and the general public through its courses and concerts. Students have access to modern recording studios, equipment, and software, enabling hands-on practice in real-world settings.
The Music Depart of Berkeley provides unique opportunities for internships and collaborations, giving students a competitive edge in launching their careers in sound engineering.
Sound engineers who graduated from the University of California, Berkeley are Mark Berger, Angela Don, Angelica Garcia and others.
Course offered in music production
Bachelor of Arts in Music 4 yrs course; Tuition Fee: $ 14,420

Address: 1750 Arch Street, Berkeley, California - 94709

Benefits of choosing sound engineering schools in Los Angeles
Choosing a sound engineering school in Los Angeles is a wise decision for aspiring sound engineers. Los Angeles offers a distinctive environment that can help you realize your full potential as a sound engineer with its thriving music scene and world-class institutions. The following are some of the top arguments for picking a top audio engineering school in LA:
World-class faculty and facility: Los Angeles draws the most well-known and esteemed audio engineers to work as professors. These professors can assist you in honing your abilities and setting yourself up for a lucrative career in sound engineering because they have connections, experience, and knowledge from the real world. The top audio engineering schools have modern facilities where students work with the latest technology and equipment.
Access to professionals in the music industry: Los Angeles is home to many different music scenes. You can make contact with a network of music producers, engineers and performers by enrolling in a top audio engineering school in Los Angeles. You can also find some of the top recording studios in LA, where you can assist in recording and editing.
Numerous opportunities: The music scene in Los Angeles is as diverse as the city itself, which is a melting pot of cultures. It gives exposure to various musical genres. Here, you can broaden your expertise and repertoire by enrolling in one of these top audio engineering schools in Los Angeles.
Conclusion
As a result of its thriving music and film industries, Los Angeles is a great place for aspiring sound engineers to relocate. The top audio engineering schools in the area give students access to top-notch facilities, knowledgeable instructors, and beneficial industry connections. Whether you have an interest in electronic music, live sound, post-production, or music production, these institutions have various programs that are suited to the needs of the business. Getting a good engineering education in LA will not only give you the technical know-how you need for success, but it will also immerse you in a thriving creative scene that will support and inspire you.