Making It Big: How to Break into the Music Industry in Los Angeles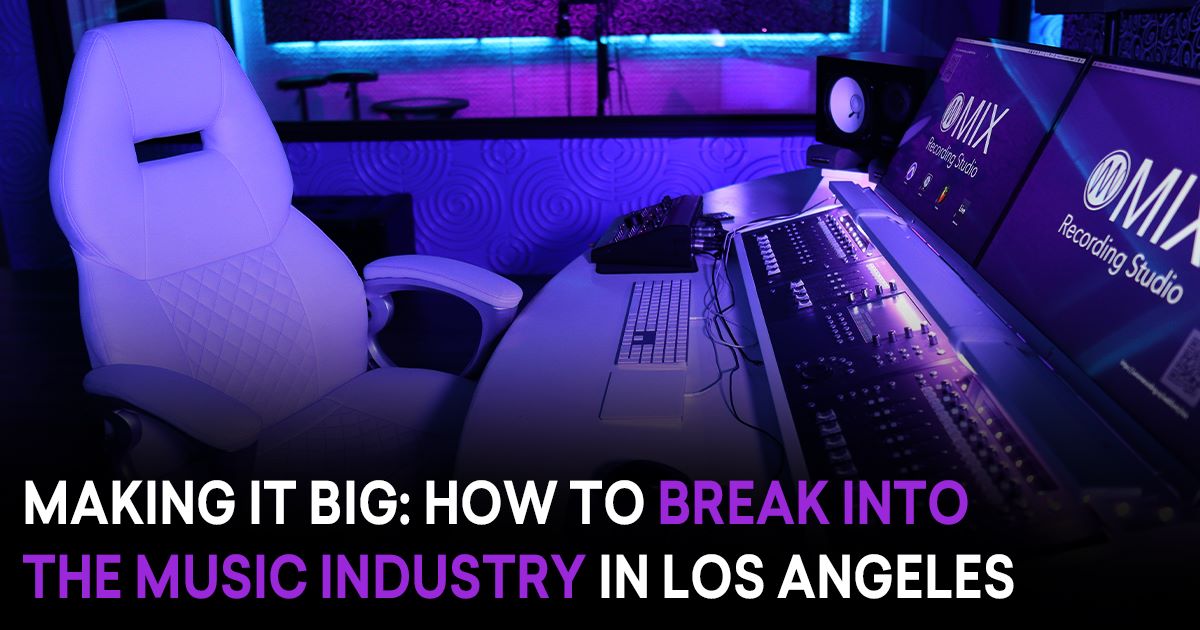 Date 14-03-2023
Los Angeles is the entertainment capital of the world and home to some of the biggest names in the music industry and music recording studios in Los Angeles.This is not surprising that aspiring music artists flock to this city to chase their dreams of making it big. However, breaking into the music industry in Los Angeles can be a daunting task. Here are some tips to help you navigate the music industry in LA and increase your chances of success.

Build a Strong Network
Networking is crucial in the music industry, and LA is no exception. Attend industry events, concerts, and open mic nights to meet people and make connections. Los Angeles thrives in the music scene. The city hosts numerous concerts and music festivals throughout the year, attracting both local and international music artists. This provides aspiring music artists with an opportunity to connect with other music artists, producers, managers, and industry professionals to expand their network. This may also give you a chance to perform alongside established artists, gain exposure and build their fan base.
However, to build a strong network, you must be genuine, build relationships, and offer value to others. Remember, it's not just about what they can do for you, but also what you can do for them.
Perfect your music skills
You may be a talented music artist but it is not enough to make it big in the music industry. You need to perfect your skills and be the best at what you do. Several seasoned music artists, producers, and other professionals reside in Los Angeles. You can find people experts in pop, rock, hip-hop, jazz and others and also in production. You must approach them and learn from them. You must take music lessons and practice regularly to perfect your music skills. You can also join a band or collaborate with other artists to gain experience and exposure. Attending workshops and seminars also help you to learn a lot about the industry and improve your skills.
Build an Online Presence
To make it into the music industry you need to have an online presence. Create a website, social media accounts, and a YouTube channel to showcase your music and brand. Having an online presence boosts your visibility and makes your music available to listeners worldwide. Make sure you have social media accounts for your music as you try to break into the market.
Spread the word about your music as much as possible. Make music videos displaying your abilities. As you build your brand, you'll need to manage your public relations and social media communications until you can afford to engage a professional. Connect with fans and industry professionals on social media, and promote your shows and activities. To reach a larger audience, share your music on streaming services, such as Spotify and Soundcloud.
Seek Professional Help
Seeking professional assistance will help you make it in the music industry in Los Angeles. Hire a music manager, publicist, or booking agent to help you navigate the industry and promote your music. Join a music association or union, such as the Recording Academy or the music artists Union, to access resources, networking opportunities, and support. You should also get your music recorded at the music recording studio in Los Angeles. The state-of-the-art recording facility of MIX Recording Studio is equipped with the most advanced equipment's and the latest technologies. It works with Grammy-nominated sound engineers who can make any music sound the best. Aspiring music artists can benefit from such facilities of the best music recording studio in Los Angeles.
Find gigs
If you're serious about getting into the music industry in Los Angeles, start playing live. Los Angeles offers you plenty of opportunities to perform live. You can check out open mic nights, look for bars and clubs in Los Angeles hosting live music events, and attend local music festivals featuring up-and-coming artists. Playing in front of an audience not only allows you to polish your talents as a musician but also allows you to network and get your name out there.
Be Persistent
Breaking into the music industry can take time, and you may face rejection and setbacks along the way. Don't give up. Be persistent, and keep working to perfect your musical skills. Keep networking, playing gigs, and releasing music. Believe in yourself, and stay true to your vision and sound. With hard work, persistence, and a bit of luck, you can make it big in the music industry in Los Angeles.
Conclusion
Breaking into the music industry in Los Angeles can be challenging, but it's not impossible. By building a strong network, developing your craft, building an online presence, seeking professional help, and being persistent, you can increase your chances of success. Remember to stay true to yourself, believe in your talent, and never give up on your dreams.
MIX Recording Studio, a music recording studio in Los Angeles , helps aspiring and seasoned music artists in moving ahead in their careers. We have the best equipment to record, edit and produce your music. Our sound engineers make your music sound professional that can attract a lot of music lovers.
To make your music sound professional, connect with us.