The Best Autotune Plugins For 2022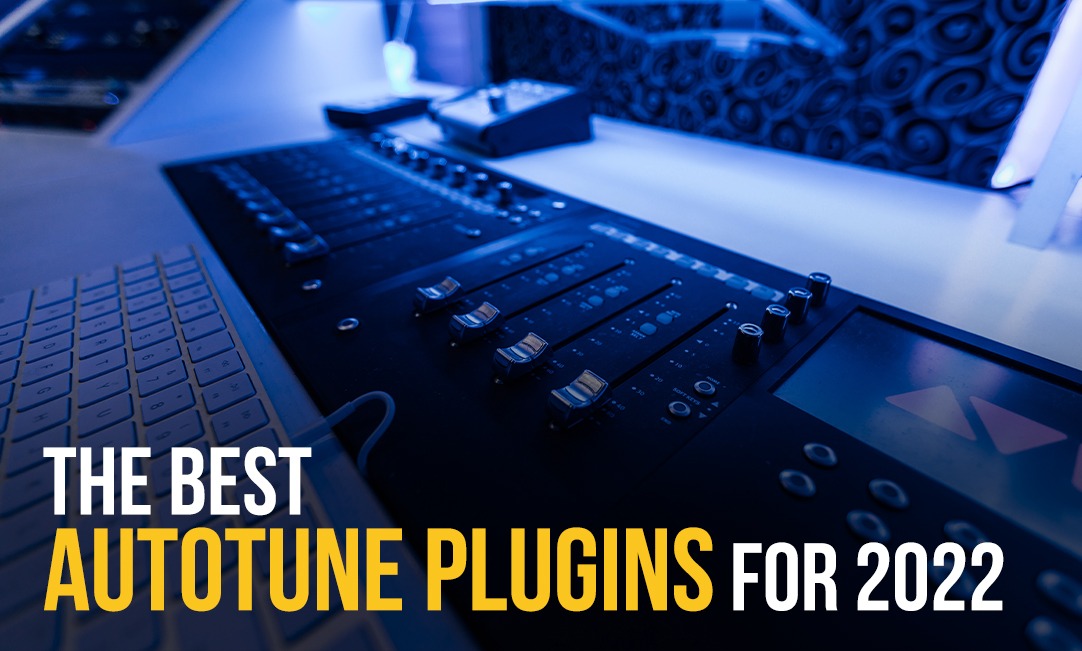 The current generation is well aware of the Autotune plugins. It is a familiar term and refers to a program that corrects pitch issues on a recording in real-time or in the post-production phase.
With an autotune program, you can tweak or fix the pitches of the vocals to keep them in the right key. It is helpful whether you are recording in a studio or giving a live performance.
Today, not only is it NOT shameful to use these tools, but listeners are accustomed to hearing polished performances, so by omitting their use, you could actually be hurting your record.
Numerous studio professionals frequently use the autotune effect. Regardless of the vocalist's natural abilities, it is now a necessary step in the production process of contemporary pop music.
Though perfection is unattainable, if you chase it, you can achieve excellence. So, to become an excellent artist, scroll down to know more about autotune and the best plugins, their price at the time of writing this blog, and the advantages and disadvantages for 2022.
How to work with Autotune?
Simply put, autotune uses a software audio processor device to analyze the pitch and key of any audio file. The recording is adjusted or corrected so that the pitch of a vocal is matched to an instrumental music recording or performance by measuring it against a predetermined key and pitch.
Do you wish to learn how to use autotune? The good news is that autotune can be used in a variety of ways, both practically and artistically. Although pitch correction for vocals is now more frequently used, it can still be used stylistically.
Best Autotune plugins for 2022
1. Antares Autotune Pro
Price: $349
This standalone plugin has been at the top of the game for decades and is widely regarded as the best autotune and pitch correction software. Many of the world's top recording studios use their software as the industry standard for the big leagues. This is a result of its reliability and user-friendliness. After all, Antares is the legal owner of the "Autotune" trademark.
An expert in digital signal processing with a PhD named Andy Hildebrand founded Antares in the middle of the 1990s, which is when autotune first appeared. It was used on Cher's 1998 hit single "Believe," which helped it become an instant hit and quickly gain popularity. Since then, many music producers and recording artists have relied on autotune as their go-to plug-in, and it has been applied increasingly artistically over time.
Advantages
· Simple and user-friendly interface
· It comes with Antares Autokey, which automatically determines the song's key and sends it to the processor for a more efficient workflow.
· You can switch to classic auto mode while still reaping the benefits and high-quality processing that Pro offers.
Disadvantages
· None, except its price, which is comparatively higher. But be assured your job gets done without any hassle.
2. Waves Tune Real-Time
Price: $71
Now let us talk about Waves Tune Real-Time which may not be as notable as Antares but is one of the classics that could help you a lot. The standalone plugin offers you accuracy, precision, and extremely low latency for live vocal performances.
Without the need for manual post-editing, it boasts the capacity to produce pitched vocals of studio quality in a live setting. Real-Time is the best autotune choice for many touring singers as a result.
It differs from other tuners in that it has two independent knobs for speed and note transition, enabling finer control of the effect's intensity. This is the automatic tuner to buy if you want one on a tight budget.
Advantages
· It offers ultra-low latency for live performances.
· The high-quality audio processing provides pristine human-like sound with no artificial artefacts.
Disadvantages
· Requires a low latency setup to achieve full potential.
· It is not very simple as with just pressing one button, you get your job done. However, it allows further manipulation of sound, if you like.
3. Celemony Melodyne
Price: $99 - $699
Many studio engineers and producers use Melodyne for its advanced capabilities. With a single vocal take, you can use the software to produce background vocals. Additionally, the standalone plugin features time-stretching and melody-building capabilities.
The highly sophisticated direct note access feature in Melodyne also enables single-note manipulation of notes within chords and polyphonic recordings.
Advantages
· It offers multiple algorithms designed for different instruments and types of audio. This gives you more options to find what works for your recording and makes it possible for whatever you are working with to provide the best editing experience.
· You can use the "formant" tool and sound editor to color the tone and change the characteristics of your recording while preserving an authentic sound.
Disadvantages
· Melodyne does not offer any free rides. If you want the best features and updates, you need to invest a little.
4. Reaper Rea tune
Price: $60
This is a fantastic feature for those on a tight budget who want to improve the quality of a take and produce a more professional sound. Though it is not a standalone plugin, the fact that the Rea tune is among the least expensive choices is a major perk.
Rea tune in Reaper can be used to produce harmonies and correct vocals that are out of tune. For those on a tight budget who want powerful harmonies and choruses but don't want to shell out $100+ for a standalone plug-in to do the job, this is a great substitute for Antares Harmony Engine.
For an easy-to-understand overview of what this DAW has to offer, if you are new to Reaper, it might be worthwhile to read our beginners' guide to Reaper.
Advantages
· It is a CPU-friendly option for those who have busy sessions and do a lot of heavy processing.
· Its price is most impressive. Additionally, you get a 60-day free trial to see if it works well for you.
Disadvantages
· There are audibly noticeable artifacts that pop up when you apply pitch correction. It is good for beginners but not for audio engineers who want pristine natural-sounding vocals and effects.
· It lacks the advanced features of more high-end plugins.
5. Logic Pro Flex Pitch
Price: $199
The Flex Tune mode in Logic Pro is its best feature, which allows for sophisticated audio manipulation. Its multiple algorithms suit various audio signals and instrument types.
This is a flex pitch for vocals. Visual representations of notes can be cut, glued, moved around, and stretched over time. Additionally, the voice can be adjusted to have more or less vibrato and to have a different drift between each word (as well as the gain). The cost of the entire DAW is well worth it for a tool this sophisticated that comes with Logic.
The only drawbacks are its processing capabilities and tonality. It works great for changing a few problematic areas in a take, but as soon as you start moving things around excessively, the audio quality starts to suffer. Consider a standalone solution if you need a plug-in or tool with better processing capabilities.
Advantages
· Flex Pitch in comparison has a lot more to offer in terms of how much sonic manipulation you can do. Additionally, you can time-stretch audio using various algorithms with Logic's Flex tool.
Disadvantages
· It offers less advanced algorithms.
· With too much editing or lowering the vibrato, it starts developing a robotic tone.
Conclusion
So there you have it—the top five autotune plugins for producing vocals that sound flawless. You now have a better understanding of what to watch out for when tuning, how to maintain a natural performance, and the most effective tools to help you get there.
As long as your results sound fantastic, it doesn't really matter which tools you use. You are now in a position to decide what your next vocal tuning tool will be after viewing this list.
MIX Recording Studio, with a state-of-the-art facility and talented audio engineers, is a professional recording studio that offers a number of music-related services, including audio mixing and mastering services. To have a great musical career, contact us.