Top 10 Music Venues for Performing in Los Angeles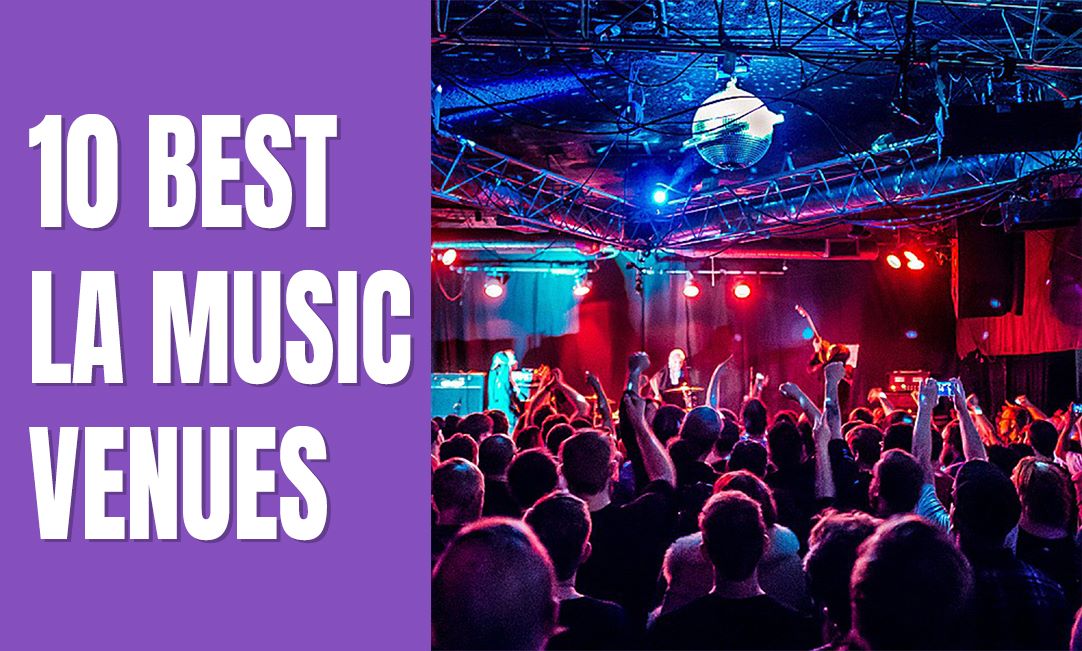 Date: 20-April-2023
Los Angeles is one of the biggest music industry hubs, Los Angeles, and a perfect place for aspiring music artists to launch their careers. Whether you are an instrumentalist, singer, or songwriter, there are countless opportunities to perform in front of live audiences and spread the word about your music. In this article, we'll look at some of the best venues in Los Angeles where you can show off your musical talent.
Top ten venues for music artists in Los Angeles
1. The Mint
The Mint is a well-known music venue with a long history of hosting various shows, in addition to being one of the top open mics for music artists in LA.
The Mint is a mid-city venue that hosts open mic nights where musicians of all genres are invited to perform on its top-notch stage and sound system. It is situated at 6010 W Pico Blvd, about a half-block east of S Crescent Heights Blvd. Going to The Mint's open mic nights is a great way to discover new talent in the music industry and is a favorite among music artists due to its reputation for providing an excellent platform for upcoming music artists.
In an effort to fill a cultural gap in the LA community, The World Stage, located in Leimert Park, the center of the African American cultural community of Los Angeles, was founded in 1989 by the late Billy Higgins and Kamau Daáood.
Besides, hosting various live music performances, it also hosts open mic night every Wednesday, where music artists can showcase their talents in a welcoming setting. The location is renowned for its dedication to supporting inclusivity and diversity in the arts.
3. The Virgil
The Virgil at 4519 Santa Monica Blvd., Los Angeles is a favorite venue for music artists and performers due to its large stage and cutting-edge sound system. It hosts live music, DJs, dancing comedy, and more where artists from different genres participate and showcase their artistic talent.
4. El Cid

El Cid is one of the oldest places to show off local talent and has hosted a wide variety of performances since its inception in 1963, including outstanding music artists. El Cid at 4212 W Sunset Boulevard, Los Angeles, is the place to go if you want to show off your musical abilities in a classy setting with a stage just for you. It provides regular opportunities for aspiring artists to show off their talent.
5. The Echo
The Echo has introduced some of the hottest bands to the LA music scene and established itself as the go-to location for significant local music events, dance nights, and a variety of touring acts. The venue, located at 1822 Sunset BLVD, LA, is renowned for its adventurous booking policy, which welcomes talent from around the globe and nearby. The Airborne Toxic Event, Hanni El Khatib, War Paint, Active Child, and Foster the People have all benefited from its career-launching effects.
Bootleg Theater, located at 2220 Beverly Boulevard, Los Angeles, is a year-round, open-access performing arts venue for original live performances originating from Los Angeles' diverse cultural and artistic landscape. The best established and up-and-coming artists, including music artists, are supported and collaborated with by Bootleg to produce daring, multi-disciplinary live experiences that are striking, modern, and unconventional.
The Hotel Cafe is well known for its inviting ambience and first-rate live music performances. The venue can be found in Los Angeles at 1623 1/2 N. Cahuenga Blvd. It presents a number of performances by gifted artists who never fail to dazzle, ranging from spoken word poets to singer-songwriters. The Hotel Cafe provides a welcoming and encouraging setting that encourages originality and self-expression. It is not surprising that it is one of Los Angeles' most popular venues, where some artists can be seen performing quite frequently.
8. Los Globos

Music artists and performers frequent Los Globos, which is located at 3040 Sunset Boulevard in Los Angeles. It also hosts open mic nights every Wednesday. With a large stage and cutting-edge sound system, it is one of the oldest nightclubs in LA and offers unique late-night entertainment. Los Globos is dedicated to creating original and unforgettable arts and entertainment while embracing an authentic understanding of the shifting cultures of today.
9. Catch One
Catch One, a premier multi-use venue in Los Angeles at 4067 West Pico Boulevard, hosts a wide variety of events! It features live music, DJs, and other events where music artists from various genres take part and exhibit their musical abilities.
10. Globe Theater
Globe Theater is one of the oldest and still operating theaters in Los Angeles at 740 South Broadway. Its friendly environment is perfect for budding artists to showcase their talents. Musicians from a variety of genres perform at open mic nights every Friday. Whether you're a seasoned performer or just getting started, the venue has a cutting-edge facility to help you hone your craft.
Conclusion
Los Angeles is home to some of the best venues in the world. For a music artist like you, the city gives plenty of opportunities to perform and showcase your talent. So, get ready to take the stage in one of these amazing spots.
MIX Recording Studio, the best recording studio in Los Angeles , works with aspiring music artists to record and create high-caliber music in its cutting-edge studio. We also offer tips to music artists on how to advance in their careers.