Top 5 Podcast Hosting Platforms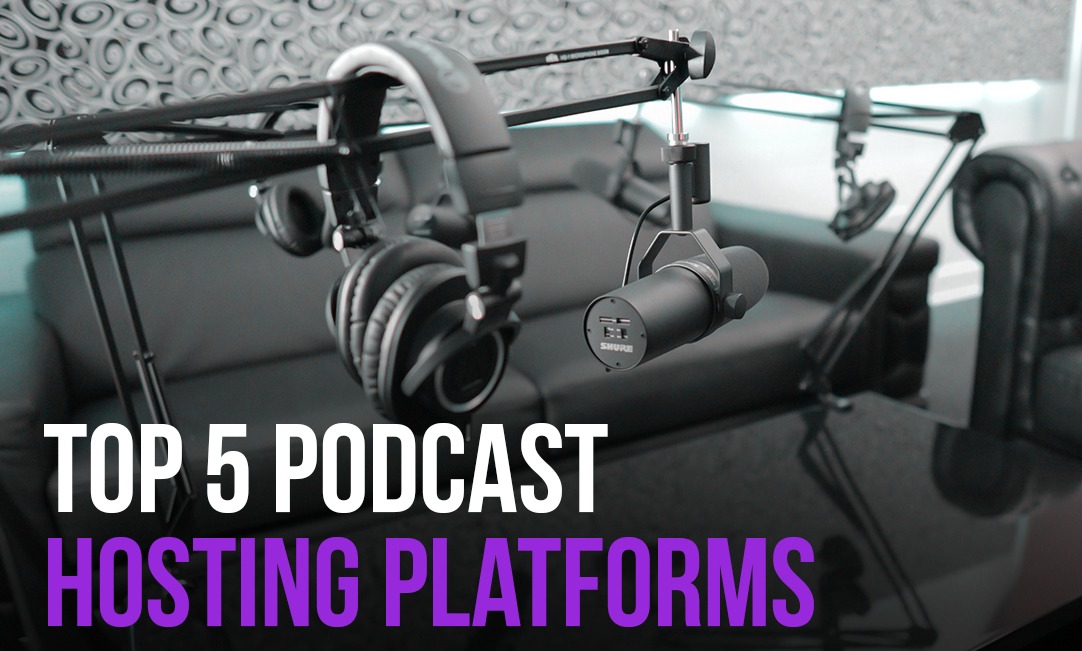 Choosing a reliable podcast host is an important step in getting your content heard by others. The hosting setup is an absolutely crucial step in the process of taking your podcast fr om conception to release.
Once you have completed the production part of your podcast, you need to choose a podcast hosting platform. The hosting service acts as the place for your podcast's audio and collaborates with listening directories like Apple Podcasts, Google Podcasts, and Spotify to make your episodes accessible to others for listening.
Today, we have several podcasting platforms and the number is increasing regularly. So, the question is how do you choose from such a great number of podcast hosting platforms? In actuality, all hosting platforms perform essentially the same functions, but they all have distinctive qualities that set them apart from one another. Some are designed to simplify podcasting and aid new podcasters in learning the ropes. On the other hand, to provide much-needed assistance for monetization and advertising endeavors, others have concentrated their attention on podcasting networks.
MIX Recording Studio, is committed to helping podcasters with essential resources to attain their desired aim. Therefore, here we present to you a curated list of the top five podcasting platforms as a solution for your podcast.
However, before going through the podcasting platforms, let us be clear about why you require a podcasting platform.
Reasons to approach a podcast hosting platform
· It offers space for the episodes of your podcast.
· In order to upload your podcast to those platforms, it generates an RSS Feed that can be sent to the directories (like Apple Podcasts)
· It generates distinctive HTML embed codes so you can add your episodes to your website.
The best 5 podcast hosting platforms
Since, 2008, the organization has been helping podcasters with its hosting platform. Buzzsprout is well-known in the field and has some entertaining and distinctive features that already set them apart from the competition. Any audio file will be automatically ID3-tagged and converted to MP3 format, and your podcast artwork will be resized to conform to directory requirements. Additionally, they have WordPress plugins and streamlined publishing features to make it simple to upload, edit, and push out both your written and audio content. They can even help you create a simple, scalable website for your podcast so that you have an online presence, or they can offer you eye-catching embedded players to use on your already-existing website or blog.
Buzzsprout helps novice or seasoned creators, non-profits, or anyone who wants to spread their message as quickly as possible. Thus, it offers an unmatched service approachability geared toward assisting new podcasters, as well as a superior user interface (UI) and usability of the hosting platform.
The industry standard for podcast hosting is PodBean. They have a long history of assisting podcasters in getting their content out there and dispersed in a simple, dependable way, along with a sel ect few other players in the hosting space. Yes, there are times when having a long history gets a bad rap. Sometimes well-known brands get stuck in their ways and ignore the needs of the moment. But don't be deceived by their position. PodBean is constantly looking for ways to enhance what it offers and is very innovative and in tune with the needs of podcasters. In many ways, PodBean has been years ahead of the curve and has provided some of the essential features and solutions that more recent hosting platforms lack.
Looking for a way to finish up some simple post-production tasks on your phone before publishing? This idea was introduced by PodBean a few years ago. Looking to monetize your podcast and connect with collaborators who can help you do that? For a while now, PodBean has been assisting podcasters with this. Even before the recent surge mounted, PodBean was working diligently to develop platforms that were mobile-friendly.
The clean and attractive user interface is specially designed for beginners but is also good for larger networks and podcasters looking for monetization.
It would be an understatement to say that without Libsyn, the world of podcasting would not be what it is or wh ere it is today. Since the start of the podcasting industry over 15 years ago, Libsyn has played a role in almost everything. They are marketed as the biggest podcast network in the world and are the go-to platform for podcasters fr om all over the world. They host popular podcasts in addition to new and inexperienced ones. Popular and well-known podcast hosts like Joe Rogan and Marc Maron collaborate with Libsyn. Libsyn is renowned for its dependability and for setting the standard for all aspects of podcast hosting.
Any podcaster, fr om the smallest, and newest, to Joe Rogan, who actually had the first billion downloads can approach them and get their task done effectively. With options for personalized messages and scheduling for social media platforms or each directory destination, their interface is made to be simple and easy to use for a basic episode release.
Even though well-known veterans like Libsyn and PodBean are well-known, they are not the only companies that have offerings for podcasters that have a significant impact. But despite the seemingly endless stream of new hosts appearing, very few are able to offer something truly fresh and original. There are certainly many gimmicks and clever words, but very few can offer podcasters anything truly useful. Thankfully, Simplecast is one of these brands that is making progress in this area.
Customer success is a company value that underpins all of Simplecast's decision-making regarding its products, features, and functions. Simplecast offers a higher level of usability and customization than many other hosting platforms because its team is constantly looking for ways to help podcasters succeed.
They offer world-class support and industry-leading analytics at a more specific level. The Unique Listeners metric, for example, adds depth and breadth to your understanding of your audience's listening habits beyond just downloads. They are constantly looking for ways to advance the industry.
Making more of their podcast than just having a small audience of listeners are one of the main goals for many podcasters. Many people set out with lofty goals in mind. In order to start seeing a podcast as a potential source of income for the podcaster, the brand, or the organization behind it, one way to approach this is to monetize it. But do you ever pause to consider wh ere the industry heavyweights host their podcasts? The "professional podcasters" who rely on podcasts for a living? What assistance does the hosting service provider for podcasters who want to spread their show to a large audience while also making money from it?
Many platforms help with the monetization and advertising aspects of podcasts, but few are effective at it. Megaphone (previously Panoply Media) provides a platform for hosting podcasts with a focus on assisting podcasters in getting more from their podcasts.
Megaphone is designed specifically for network-level and enterprise podcasts. Their tools aid in overcoming the difficulties faced by organizations with numerous moving parts, both in terms of ad sales and trafficking as well as content production.
Simple and simple to use. Even though it has a wide range of cutting-edge and powerful features, it is user-friendly and makes sure its workflows are as simple as possible.
The industry's first and most advanced audience-targeting technology is the Megaphone Targeted Marketplace (MTM). It enables brand advertisers to connect with more than 60,000 Nielsen audience segments based on preferences, intent to buy, and more.
Regarding the publishing platform, it is well known throughout the industry for its straightforward design and efficient workflow.
The above podcast hosting platforms are helping podcasters in one or several ways.
Conclusion
MIX Recording Studio, a professional recording studio, offers a rental studio and helps podcasters in the production of their podcast. Our team enhances the quality of your podcast and makes it professional sounding. To avail of our service, connect with us.