In-Studio Music Video
Step into the amazing world of music at MIX Recording Studio, where your musical vision comes to life in clear colors and high-definition sound. Our top-notch music video production service is designed to push your artistry to new heights by capturing the essence of your music with unrivalled clarity and creativity.
At our music recording studio in LA, we take pride in providing artists of genres such as hip-hop, pop, rock and others with an immersive and unforgettable experience. Our experienced videographers and sound engineers collaborate to create music videos that are cinematic masterpieces.
From dynamic lighting setups to stunning visuals and top-notch audio quality, we spare no effort to ensure your music video is a true work of art. Whether you're an aspiring or seasoned artist, our music recording studio in LA is your canvas, and your music is your inspiration.
Get videos in multiple formats from our music recording studio in LA for you to share on various platforms to expand your reach and captivate a larger, more eager audience.
With our videos, you can share your story, passion, and artistic journey and get connected with your fans. Allow them to enter your creative world, reveal your true self, and watch your fan base grow! Accept the power of music videos; your audience is waiting for you to perform your magic.
So, are you ready to turn your music into a visual masterpiece? Contact us today to begin a journey that will captivate your audience and leave them wanting more. Your in-studio music video is waiting for you - it's time to shine brighter than ever!
$349
2 hr filming at the studio including studio rental fee
Edited and Ready video clip in up to 3 days
Perfect for:
Creating Music Video for your song to share on all media platforms
FREQUENTLY ASKED QUESTIONS
You'll get a video clip of your live performance that is ready to be streamed across all platforms. Great way to release your new song and get even more attention.
Yes. Our professional team will have a shooting script ready for you.
$349
Including studio rental fee and 2 hours filming
Yes. You will get the final product ready for all social media platforms.
Approximately it will take 2 hours of shooting.
You'll get your video clip in up to 3 days.
HAVE MORE QUESTIONS?
Visit our Recording Studio FAQ page for more details or call us at +1 323.218.7475
BOOK IN-STUDIO MUSIC VIDEO
Form Submitted Successfully
Thank you for booking! You will be contacted by a Studio representative within 30 minutes to confirm your final appointment date and time. Your request is not completed without a final confirmation.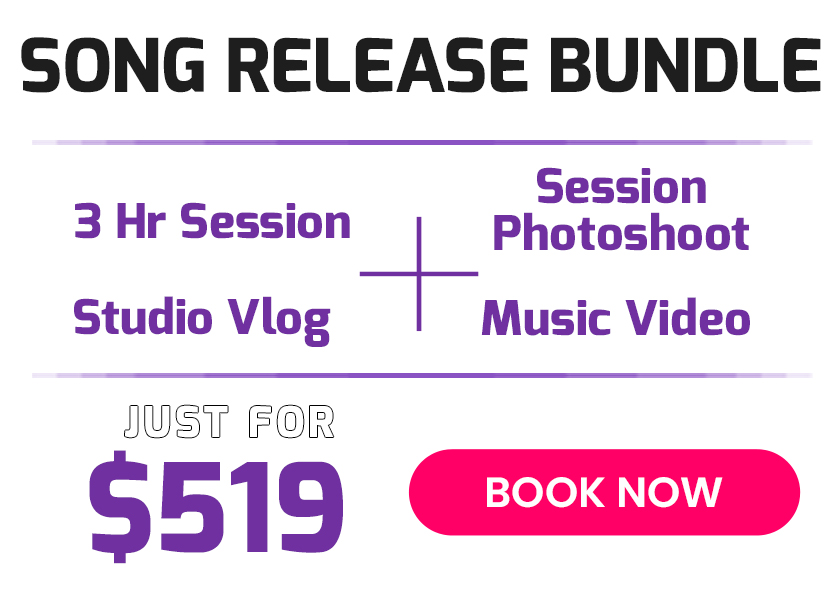 MORE SERVICES
MIX Recording Studios offers a wide range of services which include, Studio rental, Recording, Mixing, Mastering, Video Production, Phonoshoot and more.