Studio Interview
The "Studio Interview" from MIX Recording Studio is here to give you a fascinating look at the process of making music. Have you ever wondered how the songs you enjoy are created? You can now demonstrate to your audience the magic occurring in our Los Angeles recording studio.
Our top-notch videographers will be your guides, capturing your creative process in action. They'll interview you to learn more about the essence of your music. As you reveal the narratives behind your songs and albums, our videographers capture them to let your fans delve deeper into your artistry. The final outcome? A captivating three to five-minute video that will shine on all of your platforms!
At our recording studio in Los Angeles, our seasoned team takes the wheel of video production. We make sure your video reflects your distinct brand and goals, from idea generation to scriptwriting, filming to editing. We've got you covered and are aware that video formats are crucial. Our experts will adapt your video to be the ideal fit without sacrificing quality for the web, social media, or mobile devices.
At MIX Recording Studio, we're committed to providing outstanding videos that exceed your expectations. At our recording studio in Los Angeles, we work closely with you, supporting your vision and providing knowledgeable advice at each stage.
Improve your visual content right now! If you choose our additional video service, your musical journey will shine like never before. Your fans will be grateful for the captivating magic you worked behind the scenes!
*$149
1 hr filming
Ready 3-5 min video in up to 3 days
3 hour minimum booking is required
Perfect for:
Behind-the-scenes video
Documentary & interview video
*Studio rental and Recording Session fee is not included
FREQUENTLY ASKED QUESTIONS
You'll walk away with a 3 to 5 min edited video, where you introduce your new song or album to your fans. It's a great way to attract new audiences and to get closer with your fans.
Yes. Our professional team will have a script ready for you.
$149
Studio rental and Recording Session fee is not included
Yes. You will get the final product ready for all social media platforms by the end of your session.
Approximately it will take 1 hour of shooting and 2 hours of editing.
You'll get your custom made video in up to 3 days.
HAVE MORE QUESTIONS?
Visit our Recording Studio FAQ page for more details or call us at +1 323.218.7475
BOOK A STUDIO SESSION
Form Submitted Successfully
Thank you for booking! You will be contacted by a Studio representative within 30 minutes to confirm your final appointment date and time. Your request is not completed without a final confirmation.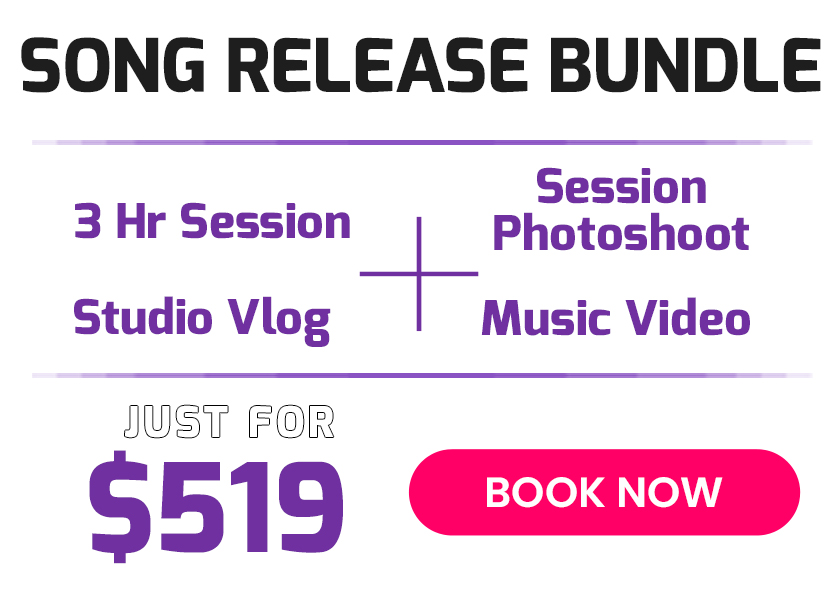 MORE SERVICES
MIX Recording Studios offers a wide range of services which include, Studio rental, Recording, Mixing, Mastering, Video Production, Phonoshoot and more.